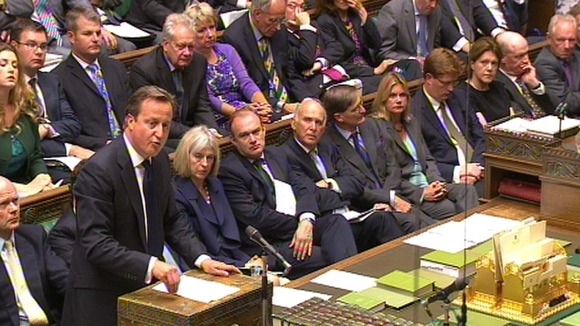 Five Conservative MPs from the Anglia region voted against the Government and helped Labour defeat a motion on Syria. It has battered the UK's foreign policy and some commentators say that the vote has undermined David Cameron's authority.
One Liberal Democrat from East Anglia, the Cambridge MP Julian Huppert, also voted against the coalition motion.
The Conservatives from the Anglia region who voted against were:
David Amess (Southend West)
Richard Bacon (South Norfolk)
John Baron (Basildon & Billericay)
Philip Hollobone (Kettering)
Stephen McPartland (Stevenage)
A further nine Tories from the Anglia region either abstained or were absent for the vote. They were:
Henry Bellingham (North West Norfolk), Nadine Dorries (Mid Bedfordshire), Alan Duncan (Rutland & Melton), Sir Alan Haselhurst (Saffron Walden), Anne Main (St Albans), Sir Jim Paice (South East Cambs), Priti Patel (Witham), David Ruffley (Bury St Edmunds) and Tim Yeo (South Suffolk).
The region's three Labour MPs voted with their party against the Government.