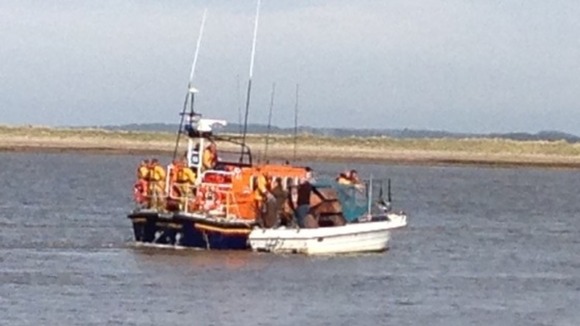 For over a hundred years Wells lifeboat station has withstood the ravages of the sea, sited as it is on the beach at Wells-Next-the-Sea. But last night, it couldn't quite withstand the ravages of the huge tide which struck the North-Norfolk coastline.
The crew were standing by at the station to cover any emergency when huge waves swept through the boathouse reaching an estimated height of ten feet at the highest point of the tide.
The weight of the water smashed the door of the inshore lifeboat shed and surged through the main boathouse where the all-weather lifeboat is housed. At one stage it rocked the lifeboat which was strapped to its launching carriage.
Then when the tide receded it left behind in the boathouse around twenty tons of shingle and gravel.
Lifeboat Operations Manager, Chris Hardy, said, "I've never seen anything like it. We had to open the doors at both ends of the main boathouse to let the sea surge through. Otherwise it would have taken these doors out too."
As it was, one corner of the boathouse has its outer cladding ripped off and interior wooden panelling was damaged. Memory boards of historic launches had to be removed hurriedly from the walls to prevent them from being damaged by the sea.
The crew have been up most of the night mopping up after the damage.
Repairs are expected to begin today.