July 2015 started with a record-breaking July heatwave but the month overall ended up cooler than normal in the Anglia region and very wet.
Read the full story ›
Residents in Lowestoft in Suffolk are counting the cost of a summer soaking after nearly a month's worth of rain fell in 24 hours.
Read the full story ›
Advertisement
The Anglia region has a had a proper summer soaking with nearly a month's worth of rain falling in just 24 hours.
The wettest place so far is Norwich which more than 40 mm (1.6 inches) in the 24 hours at 6am on Saturday. The usual monthly rainfall in July in the Anglia region is 51 mm (2 inches).
The heavy rain sparked flash flooding in Bishop's Stortford in Hertfordshire where police warned motorists not to drive through deep water on the roads.
Rainfall totals in the Anglia region in the 24 hours to 6am on Saturday 25 July 2015
42.2 mm at Norwich airport
40.2 mm in Wattsiham, Suffolk
39.2 mm in Higham, Suffolk
36.2 mm in Charsfield, Suffolk
33.4 mm in Cavendish, Suffolk
32.0 mm in Writtle, Essex
29.0 mm in Shoeburyness, Essex
27.4 mm in Andrewsfield near Braintree, Essex
24.0 mm in Cambridge
23.6 mm in Bedford
21.4 mm in Northampton
Up to 30 mm (1.2 inches) of rain fell in the Anglia region on Friday 24 July 2015 and in some places a fortnight's worth of rain has fallen in just 12 hours.
Harpenden in Hertfordshire saw more than 30 mm of rain between 9am and midnight on Friday. That was on top of more than 50 mm (2 inches) that fell during torrential downpours and thunderstorms last Friday.
Rainfall totals between 10am and 10pm on Friday 24 July 2015
28.0 mm in Woburn, Bedfordshire
26.8 mm in Harpenden, Hertfordshire
24.2 mm in Charsfield, Suffolk
24.2 mm in Higham, Suffolk
23.2 mm in Cavendish, Suffolk
22.6 mm in Writtle, Essex
22.6 mm in Sawtry, Cambridgeshire
21.8 mm in Stowe, Buckinghamshire
21.0 mm at Norwich airport
19.2 mm in Northampton
18.4 mm in Bedford
17.0 mm in Cambridge
In an average July, 51 mm of rain falls in the Anglia region during the entire month.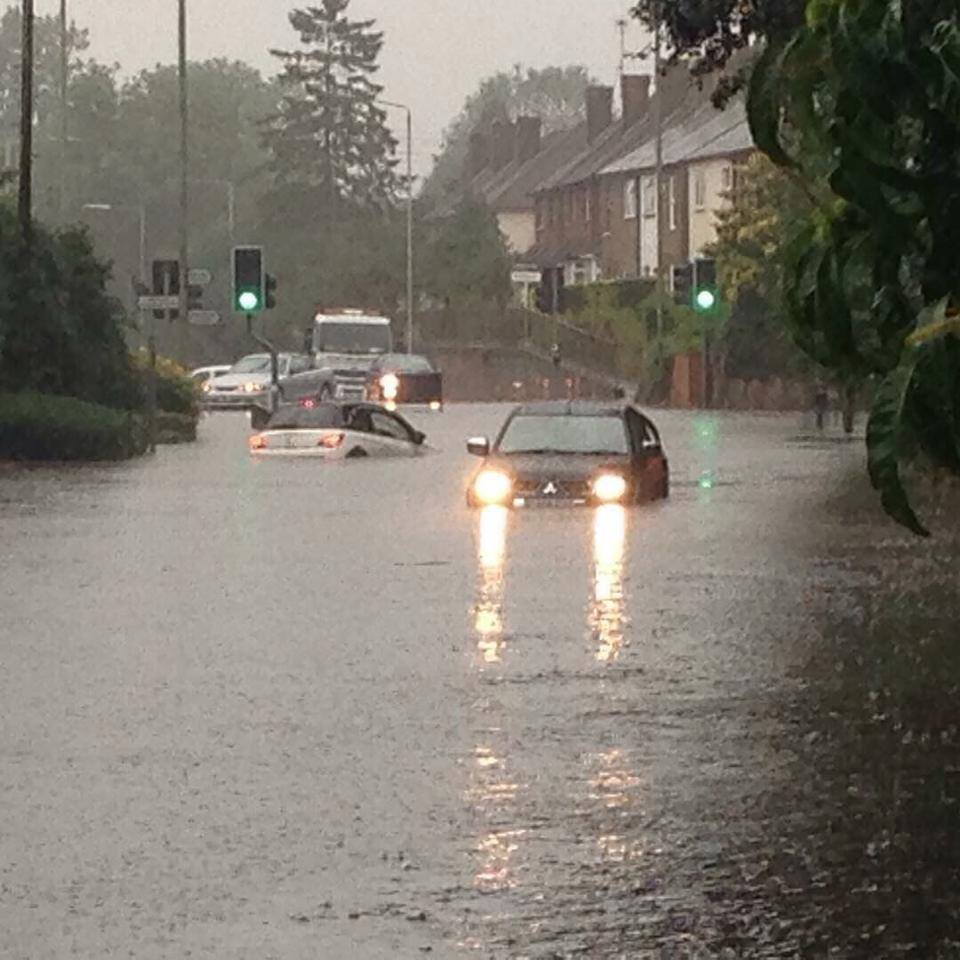 Reports are coming in that roads in Bishop's Stortford have been closed down because of flooding.
Police are warning drivers not to attempt to pass through it. They say a critical incident plan is in place.
Roads blocked are thought to include Stansted Road and Parsonage Lane.
Stansted Road is shut. DO NOT ATTEMPT TO DRIVE THROUGH IT. A critical incident plan is in place. http://t.co/nLaPqc1HwT
The Environment Agency is warning that the rainfall will bring a risk of localised surface water flooding, particularly for parts of Norfolk, Suffolk and Essex.
The Agency says it is monitoring the situation closely and supporting local authorities who will respond to any reports of surface water flooding. There are teams out on the ground working to reduce the risk of flooding, but the Environment Agency will issue flood alerts and warnings for rivers if required.
"Heavy rainfall on Friday night into Saturday brings a risk of surface water flooding for parts of south and east England. If you're driving away for the summer holidays, as always, please remember not to drive through flood water. People are urged to check their flood risk on our website, especially if you're holidaying in an area where you're not familiar with the flood risk."
– John Curtin, flood risk manager at the Environment Agency
Advertisement
Following a dry summer so far, the gardens are in need of a decent spell of rain. But that may be little consolation to anyone with outdoor plans this Friday, which could end up as the wettest day of the summer (and the year) so far in the Anglia region.
Weather prediction models are now in agreement that most places will suffer from a prolonged spell of wet and cold weather to end the first week of the school holidays.
There is currently a yellow weather warning in place which the Met Office was considering upgrading to amber.
There remains some uncertainty over the extent and the scale of the heaviest rainfall.
It is expected than many places in East Anglia will see 30 mm (1.2 inches) of rain but there is a risk that some places will see more than 60 mm (2.4 inches) of rain during Friday. That amounts to more than a month's worth of rain.
If this happens, it would be the wettest day so far this year in the Anglia region.
The Met Office says there is a small risk that one or two spots could see rainfall totals as high as 90 mm (3.5 inches) in 12 hours. That would be nearly two months of average rain.
A Met Office warning has been issued because that amount of rain could cause localised flooding and affect outdoor events and busy roads.
Winds will increase overnight, especially near the coast and could gust to 60 mph which is very strong for the time of year
Met Office Yellow Weather Warning
Valid from 1200hrs on Friday 24 July until 1100hrs on Saturday 25 July
The Met Offices says areas of rain, often heavy, and strengthening winds will cross much of southern England on Friday, persisting overnight in the east, before clearing on Saturday morning.
This is an update of Thursday's warning, advising of an increased likelihood of localised flooding, especially across southeast England and East Anglia, where the warning may yet be escalated to Amber. These areas are also most likely to be affected by northerly gales, with winds gusting to 45 mph inland and around 55 mph along coasts.
The public should be aware of the potential for disruption, particularly affecting those travelling or engaged in outdoor holiday activities.
The Met Office Chief Meteorologist says: "An area of low pressure will run northeastwards close to southern England on Friday, deepening into quite an intense feature for the time of year, before clearing to the east early on Saturday."
"While there remain some uncertainties in the track and intensity of this low pressure system, there is now an increased probability of a developed feature bringing disruptive rain and wind, particularly across the east of the area.

"More than 30 mm is expected quite widely but with the likelihood now that some areas could well see more than 70 mm of rain. The combination of factors brings the risk of disruption to outdoor activities and heavy holiday traffic.

"This warning may still be updated later on Friday, as further information becomes available.
– Met Office Chief Meteorologist
Many parts of the region woke to thunder, lightning and heavy rain in the early hours of this morning.
Read the full story ›
Load more updates