There's a warning of difficult driving conditions after more than 30 mm (1.2 inches) of rain has fallen in some parts of the Anglia region during Sunday.
There surface water flooding in many areas and the Environment Agency has issued a flurry of flood warnings and flood alerts as some rivers burst their banks.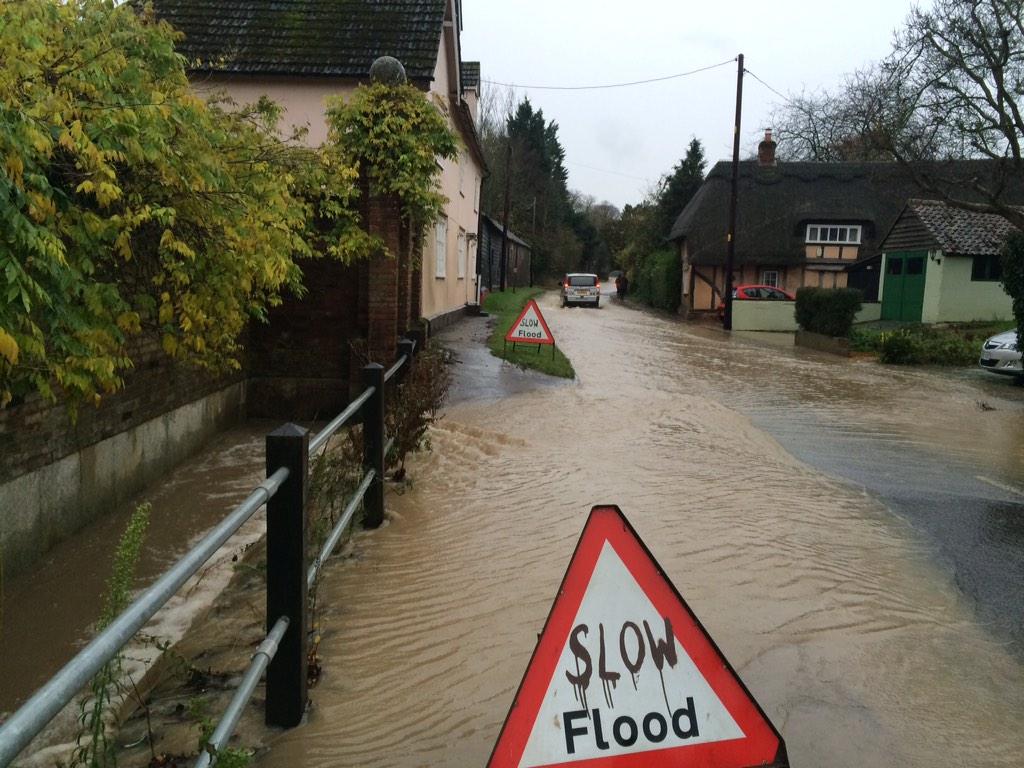 Share your pictures of any flooding with ITV News Anglia by emailing angliaweather@itv.com
Parts of East Anglia are facing flooding along some roads with some properties at risk as river levels rise. Up to 25 mm (1 inch) or rain has fallen since midnight which is the amount that usually falls in two weeks.
Trains services have been suspended in Norfolk because of flooding at Worstead on the line between Norwich and Sheringham.
By 3pm, the Environment Agency had issued four flood warnings and 15 lower level flood alerts.
Rainfall totals in the Anglia region on Sunday until 3pm
28 mm at Higham near Bury St Edmunds, Suffolk
24 mm in Santon Downham, Suffolk
23 mm in Norwich
21 mm at Andrewsfield near Braintree, Essex
20 mm in Weybourne, Norfolk
19 mm in Writtle, Essex
18 mm in Cambridge
13 mm in Bedford
9 mm in Northampton
Advertisement
Abellio Greater Anglia services between Norwich and Sheringham have been suspended due to flooding at Worsted.
The Environment Agency has issued flood alerts for parts of the Anglia region as a Met Office weather warning for rain remains in place.
Read the full story ›
The Met Office has issued a yellow weather warning for persistent rain on Sunday which could cause localised flooding of land and roads in some areas.
The warning area covers parts of Norfolk, along with Suffolk and Essex and small areas of Cambridgeshire and Hertfordshire.
The warning is in force from 3am until 9pm on Sunday 23 November 2014
The Met Office says: "Rain will be persistent and locally heavy through much of Sunday. Falling on saturated ground, it is likely to cause some surface water flooding in places before clearing eastwards. The public should be aware of this hazard."
A waving front will lie across the area for much of the day, with more than 20 mm expected in places. Given the wetter than average weather of late, these totals bring the risk of surface water.
– Met Office chief forecaster's assessment
Following on from a warm September and October, November has continued with the mild theme in the Anglia region.
Read the full story ›
Advertisement
A sodden Sunday has seen the Anglia region's wettest day of November so far. While western parts of the UK were battered by strong winds and heavy rain during the week, it was a soggy weekend for eastern parts of Britain.
The wettest place in the Anglia region during Sunday was Weybourne on the north Norfolk coast with 15 mm (0.6 inches) of rain in the 12 hours to 9pm.
That made it the second wettest place in the UK during that period after Culdrose in Cornwall with 16.4 mm.
Rainfall totals in the Anglia region between 9am and 9pm on Sunday 16 November 2014
14.6 mm in Cromer, Norfolk
10.0 mm in Charsfield near Woodbridge, Suffolk
6.8 mm at Norwich Airport
6.2 mm at Andrewsfield near Braintree, Essex
5.8 mm in Cavendish, Suffolk
4.6 mm in Stowe, Buckinghamshire
3.8 mm in Writtle, Essex
3.6 mm in Northampton
0.8 mm in Cambridge
0.6 mm in Wittering, Cambridgeshire
Following a thoroughly wet morning across the Anglia region, the worst of the rain is now becoming confined to the east coast.
In the wake of this morning's rain, the Met office have now issued a yellow warning for fog, which is valid from 6pm this evening until midday on Saturday.
According to the Met Office Chief Meteorologist:
A combination of clearing skies, light winds and very moist ground mean that fog will readily form this evening over many parts of eastern England, and will locally become dense in places. Visibilities below 100 meters are likely in the denser areas of fog. The limited insolation available at this time of year, along with light winds, means that the fog will be rather reluctant to clear on Saturday morning, but current expectations are that most of the fog will have cleared by the end of the morning, although mist and low cloud is likely to plague some locations into the afternoon.
– Met Office Chief Meteorologist
The mild weather of September and October has continued into November and ITV Anglia viewers have been sending in their autumn images.
Read the full story ›
Britain has seen its hottest ever Halloween with temperatures breaking records for the last day of October.
Read the full story ›
Load more updates