A woman has captured the 'sonic boom' that was felt by many underneath the Stansted flight path.
Angela Welham-Hagan caught the noise on her dashcam outside her house in Stowmarket.
RAF fighter jets scrambled to escort a Luton bound flight into Stansted airport yesterday morning.
The passenger plane was escorted to Stansted after reports of a security alert on board.
Essex Police later said nothing suspicious was found on the plane.
A cash machine at a store in Crick has been blown up by thieves.
Officers were called to the Co-op in High Street around 2am on Wednesday 4 October.
Gas canisters were used to blow up the cashpoint outside the shop.
Crowbars were used to force entry into the store and steal the cash boxes from the ATM, before the offenders made off in a car.
Police say there were four offenders, wearing dark clothing and balaclavas, who were seen driving off in a white Audi hatchback towards Yelvertoft and West Haddon.
Anyone with information can contact Northamptonshire Police on 101. Alternatively, they can call the independent charity Crimestoppers anonymously on 0800 555 111
Advertisement
An investigation has been launched after a Essex firefighter reportedly wrapped two children in cling film.
The incident, which involved the children of a crew member, happened at a fire station in Southend.
Their mother, who posted photos on Facebook, said it was intended as a joke, but she accepted "we should not have played around like this at the fire station".
The service said the watch had been put on "core duties only", meaning it cannot carry out community work.
A spokesman for Essex County Fire and Rescue Service said: "We believe that no harm was caused to the children, and that the parents were present throughout the event.
"The firefighters involved are embarrassed and regretful of how this event has been interpreted."
Nine fire crews and more than 40 officers from Bucks and MK Fire and Rescue were sent to the scene.
Read the full story ›
The force has received calls about everything from a row about a shed, to a complaint that a gambling machine didn't paying out.
Read the full story ›
Passengers on board a Ryanair flight that was diverted from Luton to Stansted after a security scare have been talking about what happened.
The plane was escorted by an RAF Typhoon fighter which created a sonic boom as it flew over Suffolk just before nine o'clock this morning (Weds)
After landing safely passengers were taken by coach to Luton.
Click below to hear what they had to say to ITV Anglia reporter Russell Hookey
Advertisement
A security scare on board a Ryanair flight that was escorted by RAF jets and saw flights at Stansted Airport grounded was a suspected hoax, the airline have said.
Passengers were safely taken off the plane which was diverted from it's route between Kaunas, Lithuania, and Luton and forced to land at Stansted, just before nine o'clock this morning.
Police say officers found nothing suspicious on board.
Flights to and from Stansted returned to normal within ten minutes
Armed officers at Stansted Airport have now escorted passengers from the diverted Ryanair flight at the centre of a security scare to the terminal building.
The flight was on the way from Kaunas, Lithuania to Luton when the alarm was raised. It landed safely after being escorted by an RAF Typhoon fighter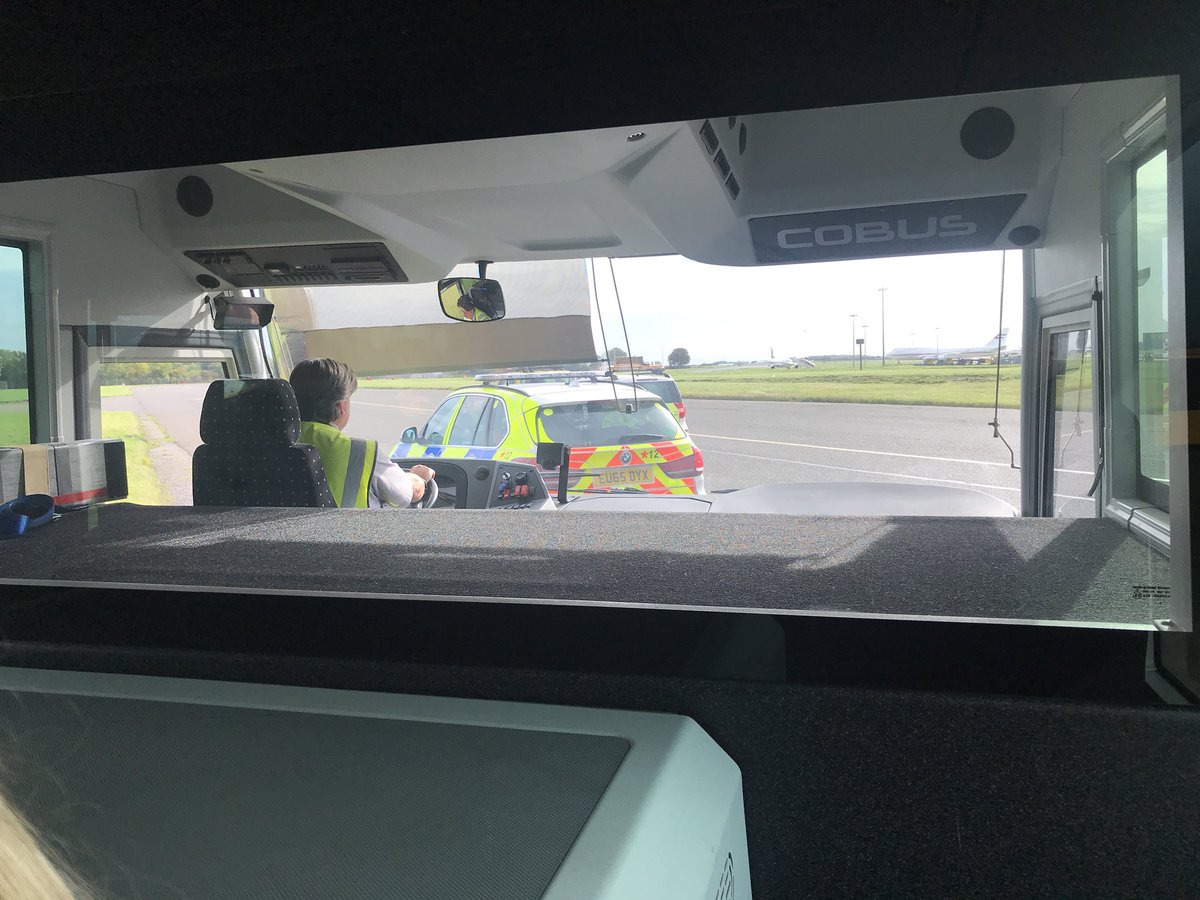 Passengers have been led away from the Ryanair flight that was escorted into Stansted this morning by an RAF Typhoon after a security scare.
Armed police were waiting on the runway for the aircraft that landed safely. It was on route from Kaunas in Lithuania to Luton when the alarm was raised.
Flights were held for ten minutes at Stansted but are now operating normally again.
Pictures have emerged of an RAF Typhoon jet escorting a passenger plane into Stansted Airport. The Ryanair flight was diverted after a security incident onboard.
Load more updates