A new exhibition is looking at how the Great War affected Duns and the surrounding area, despite being miles from the front line.
Shops and businesses had to cope with less staff as their employees signed up to fight 'for King and country'. Everyone was involved in fundraising to buy ships, planes and tanks. They also collected home comforts for the men in the trenches.
Women went back into work and began to take on roles they had never had before. Berwickshire also fell victim with stray zeppelin bombs showering the district in 1916. All things considered Duns and its environs had a large part to play in this new type of war.
Photographs, objects, local newspapers and town council records have been used to build up a picture of Duns in the 1914-18 period. Many local people have loaned family items to also display.
'The Great War in Duns' exhibition is in Duns Library Contact Centre and will be open during library open hours from 4th October to 15th November.
This year's Taste Cumbria festival was the 'biggest to date' according to organisers.
Around 35,000 people went to the festival in Cockermouth. Businesses at the festival and in the town also benefitted from the festival, with some reporting record takings.
The festival ran from the 26th to 28th September and was created after the floods in 2009 to revitalise the area.
Advertisement
The founder of a group designed to help people living in rural areas is retiring as chairman, leaving behind a charity that has "done more than he ever hoped."
Dr Jim Cox, who used to be Border Television's GP expert, set up the Northern Fells Group to help people living in rural areas around Caldbeck. He says their services are still in demand.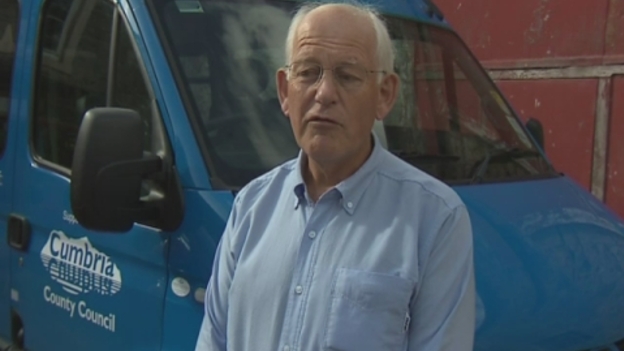 Cumbria's Police and Crime Commissioner is looking into how domestic violence and child exploitation are tackled by various agencies.
Richard Rhodes, who was elected in November 2012, has previously pledged to make tackling domestic violence and child exploitation a top priority. He will now discuss them in more detail with officers from Cumbria Police.
Kendal Brewery Arts Centre has secured £35,000 towards its redevelopment.
South Lakeland District Council has contributed the money to go towards designing the building before the submission of a planning application.
The aim of the redevelopment is to create an "even greater creative and social hub for South Lakeland".
Read: Kendal arts funding
Advertisement
£200,000 will be available to boost festivals in Dumfries and Galloway.
The council have announced that the money will go towards ensuring there is something going on in the region all year round.
Already the area is home to a lot of successful events.
Cumbria Police will be checking the safety of car tyres ahead of the winter, and drivers whose cars don't meet the required standard could face fines.
Last winter was the wettest on record in the UK, and cars without enough tyre tread depth can struggle to brake properly, leading to more collisions.
Driving on tyres that are under inflated or have a tread depth under 1.6 millimetres is illegal.
Breaking the rules can lead to fines of up to £2,500, and three penalty points for each tyre.
Memorabilia from the glam rock band, T. Rex, goes on sale today near Kendal.
Paul Fenton, who lives in Ulverston, was a drummer for the band between 1973 and 1974.
On sale are a number of his items including a signed book of poems by singer Mark Bolan and clothing from the era.
Patchy rain this morning then becoming much brighter with some sunny spells developing.
A fresher feel and turning chilly in the evening. Maximum Temperature 17C.
Load more updates
Back to top