A 15-year-old boy from Whitehaven has gone missing.
Ross Blacklock was last seen at West Cumbria Magistrates Court in Workington at around 12.45pm on 21st November.
He is described as white, of slim build, approximately 4ft 7inches tall and has short dark brown hair. He was last seen wearing a maroon hoodie, black jacket and grey tracksuit bottoms.
Police are concerned for his wellbeing and appeal to anyone who may have seen Ross to get in touch.
Anyone with any information is asked to contact Police immediately on 101.
We've all heard of the romance of the cup, but what about the heartache of League Two losses?
Keith Curle compares the experience of defeat at Dagenham to a relationship on the rocks.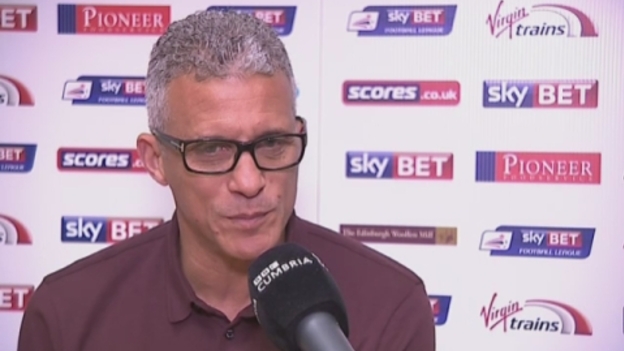 Advertisement
A man found dead in a park burn has been named by police.
The body of George Paterson, 69, was discovered in Barr Burn in Colliston Park, Dalbeattie, at around 6.45pm yesterday.
Officers believe he was walking his dog in the park before his body was discovered.
A post-mortem examination is to be held to establish the cause of death but it is not thought to be suspicious.
Police have appealed for anyone who was in the park from around 5.30pm and may have seen the 69-year-old to contact them on 101.
A report has been sent to the procurator fiscal.
Wigan Warriors will again partner with Championship side rugby team Workington Town during 2015.
Players from the Wigan team will head to Workington throughout the season to gain vital experience.
Last year several Wigan players including Greg Burke, Connor Farrell and Lewis Tierney spent time at the Cumbria club.
Workington Town will face Wigan Warriors in a friendly on 1st February next year, the final warm-up game ahead of the new Super League season.
Anti nuclear campaigners are holding a demonstration at Carlisle Station against the use of nuclear energy and transporting radioactive materials by train.
According to the group Radiation Free Lakeland, this poses a risk to the environment and public health.
The protest will run from 11am - 1pm today (24th November).
Two men have been sentenced to eleven years each for intending to endanger lives in west Cumbria.
James Clague, aged 28 of Main Road in Seaton, and Yamin Hussain, aged 23 of Camberley Street in Leeds, both pleaded guilty to conspiracy to possess a firearm with intent to endanger life.
Carlisle Crown Court heard how Clague met Hussain in prison in West Yorkshire. Hussain arranged, with a third party, for Clague to buy a 9mm pistol and ammunition which he would collect on his release from prison.
In May, Clague travelled to Leeds from Cumbria, to buy the gun and ammunition for £650. However, their plans were overheard and reported to the prison Governor which prevented Hussain from making final arrangements.
Clague was intercepted by armed officers at Carlisle Station on his return.
Advertisement
Health workers across Cumbria staged a fresh round of industrial action this morning in an ongoing bitter row over pay.
The Society of Radiographers joined 10 other unions to protest at the government's decision not to accept a recommended one percent pay rise for all NHS workers. According to the society, this is the first year since 1982 that radiographers have gone on strike over pay.
The Government says it can't afford the pay rise without risking jobs.
Lines are now open for Day 1 of voting in The People's Millions competition.
Today in the ITV Border region Gretna community sport goes head to head with Whapples Orchard.
A grant of up to £50,000 is up for grabs for the winner. The other project is still in with a chance of winning National Lottery cash if it gets the highest number of runner-up votes.
Details of how to vote here: www.peoplesmillions.org.uk and for terms: itv.com/terms.
The People's Millions is a long-running collaboration between ITV and the Big Lottery Fund. We want to help projects that capture the public's imagination, inspire local people to get involved and to make a lasting difference to those in their area through improvements to the neighbourhood.
The candidates hoping to become the next leader of the Scottish Labour Party will be in Dumfries this evening.
They include Jim Murphy, a former Secretary of State for Scotland, and two MSPs from the Lothian area, Sarah Boyack and Neil Findlay. They'll be appearing at a hustings meeting and will set out their visions for the future.
Load more updates
Back to top