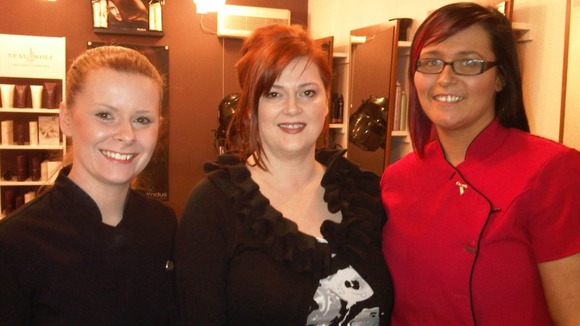 Three hairdressers from Brampton near Carlisle explain how the budget will affect them. They welcomed the increase in the threshold of Personal Tax Allowance but say more should be done for working mums and are unhappy fuel duty won't be capped.
"I'm very pleased actually because the Personal Allowance has gone up which will enable me to give the girls more of a better wage without paying out so much in tax and insurance so I am very pleased about that and I think it will be good for employment. I am a bit disappointed about the fuel prices though because that does have a knock on effect for everybody."
– Janice Grieves
"Last year I made about £9,000 and I just don't think the budget helped. My husband is a stay at home dad so because I want to come to work and you know I trained hard to be a hairdresser I just don't think there is enough support for parents like me. I would be better off on benefits but because I chose to come to work there is a lot that I don't get."
– Leigh Barnes
"I've decided to come back and work in Brampton after having my own salon in Carlisle because the lease was due to end this month and I decided I would be better off here. On average I earn £10,000 so the Personal Tax Allowance going up will be a benefit for us, I might now mean I have some spare funds for family, may be not days out now the furl hasn't been capped because obviously we need to drive to have family days out. But overall it is better for me to be back in Brampton and the Personal Tax Allowance has been brilliant for me."
– Kim Pearson

For more on the budget click here.