A study by English Heritage has shown that the Keep at Carlisle has changed dramatically through the years and now looks startlingly different to when it was built in the 12th century.
The research was the first of its kind carried out on Carlisle Castle. The team dated the changes in appearance back to the mid-16th Century, when major work to modernize the building - ordered by King Henry VIII - was carried out to the Castle Keep, including the re-surfacing of the stonework and reducing the size of the building.
According to the new research, the iconic reddish brown colour that dominates Carlisle's skyline was once a light grey colour. Along with the city's other major landmark - Carlisle Cathedral - the Keep was originally built out of Kirklinton stone. However, when it was later re-surfaced, supplies of the light grey stone had diminished. So the distinctive red St Bees stone was used instead.
He also said:
'When it was first built in the 12th Century, the Keep was intended as a residence - for the King or his senior representative there. King David I of Scotland seized Carlisle and Cumbria from England in the 1130s, and he died, in Keep's chapel, in 1153. We have tried to reconstruct the interior of the Keep as it was then.

We know that the mid-16th Century was a period of great change for Carlisle Castle. King Henry VIII ordered his surveyor to reduce the size of the building to mount a longer range canon on the roof, in order to prepare the Castle for the threat of a Franco-Scottish invasion.**

In many ways, in the centuries since the Keep was altered, its original state has proved a mystery to historians. In this study we have attempted to finally decipher some of its secrets. We often describe the Keep as the 'great tower', as it is the most impressive part of the surviving Castle and these new findings suggest that once-upon-a-time, it was even more imposing than it is today."
– Steven Brindle, English Heritage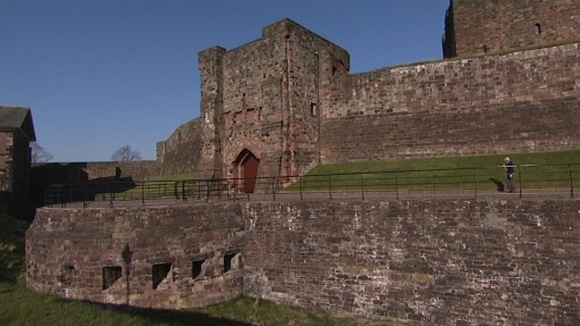 The exciting new findings will form part of an interactive reconstruction of the Keep, to feature in the new exhibition opening at Carlisle Castle in March. Visitors will have the opportunity to see the Keep, brought back to its original state.**
The exhibition tries to explain the story of the castle and the important role it played during the many conflicts between England and Scotland, it also tells the stories of an assortment** of royal, famous and infamous characters that have graced the castle with their presence throughout the ages.**