A national body opposing windfarms wil be launched in London today and events supporting it will be held across the UK including in Cumbria. More than 30 wind energy schemes have already been consented in the county and a further 45 have been proposed.
More than 15 opposition groups have been created in Cumbria against wind turbines. Representatives and supporters of wind turbine opposition groups from across Cumbria have met county councillors in Kendal to restate their opposition to win farms.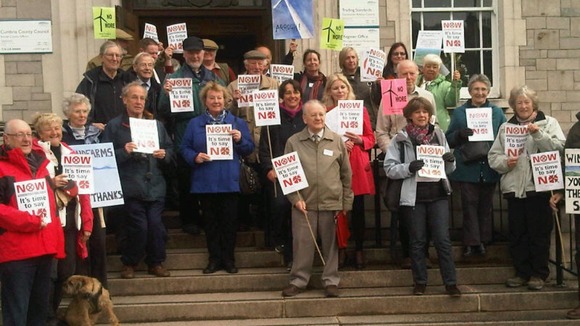 One protester, Marion Fitzgerald from Allerdale says:
"For every one of us here today there are hundreds of people in towns andvillages we are representing"
– Marion Fitzgerald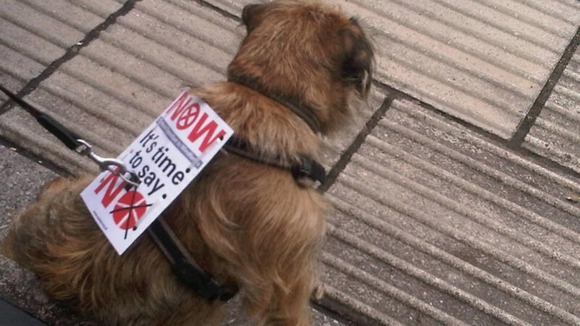 The County Council have responded to the protesters Councillor Cllr Tim Knowles, Cabinet member responsible for environment said in a statement:
"The county council is aware of the increasing alarm and frustration in some of our communities about the impacts of wind turbines on many of our cherished landscapes outside the designated areas of the National Parks and Areas of Outstanding Natural Beauty. Alongside this awareness is an acknowledgement that Cumbria has played, and will continue to play, a major role in addressing the nation's low carbon energy needs. This is why we are at the forefront of the debate on how Cumbria can take forward the Government's policy of New Nuclear Build and are keen to explore how other renewable technologies can be promoted with the associated environmental and economic benefits they can bring."However, we are becoming increasingly concerned that for the county to play its full and proper role in supporting the nation's low carbon energy mix, that Government and the renewable energy sector do not see us as having limitless capacity to accommodate every new proposal for a wind turbine. This is particularly the case where the cumulative impacts of these structures are starting to erode the character and qualities of our landscapes that attract so many visitors and their tourist pounds,"
– Councillor Tim Knowles

A scheme currently under consultation is near the village of Kilington. There are proposals to built 5 turbines to the existing Lambrigg windfarm just off the M6. Banks Renewables explained why the site is ideal.

But here there are also people objecting to the plans, Mr Edwards says he has many concerns about windfarms in Cumbria: