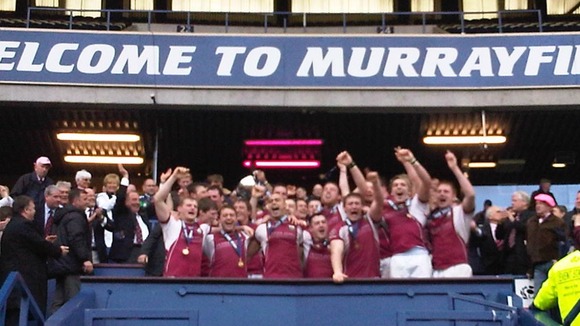 Gala's first season back in Premier One has been an unqualified success. After six years out of the top flight they have marked their return this year with a third place finish in the League and have now added the RBS National Cup.
The men in maroon were simply stronger and hungrier in almost every area of the game. Gala's defence was far keener than that of their opponents from Ayr, they bossed the scrum and put on all the most inventive moves seen from the backs.
Ayr may have made a better fist of it if they hadn't played much of the game undermanned.
It is very difficult to win rugby games when you concede three yellow cards in a single afternoon. Nevertheless It was been a tremendous season for the whole town of Galahiels.
I am so proud of everyone. This has been a brilliant day. the supporters have been fabulous all season and the players have worked really hard for them to make this happen. I couldn't be happier.
– George Graham, Gala coach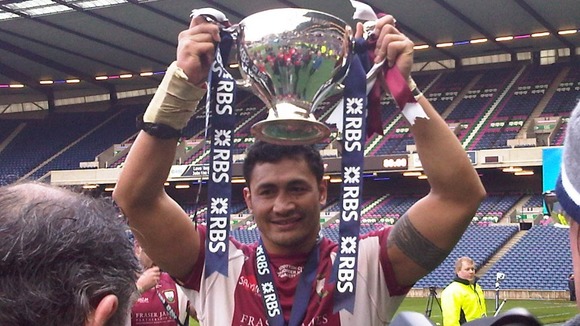 The first half was close with the sides matching each other blow for blow. Gala's stand off Lee Millar opened the scoring with a penalty after twelve minutes. Ross Curle hauled his side level just four minutes later. Curle's afternoon then took a took a turn for the worse when he became the first Ayr man to be sent to the sin bin for persistent offside offences.
Gala took advantage of their extra man and winger Craig Robertson touched down in the corner to finish off a move that had travelled through many pairs of hands as it swept from one touchline to the other, following a line out rumbled into midfield by Opeta Palepoi.
The Maroons then shot themselves in the foot when their prop Ewan McQuillin was shown the yellow card, seemingly for a deliberate kick out at an opponent on the edge of a ruck.
From the resulting penalty Ayr kicked to the corner. The one element of their game that they were able to make function effectively all afternoon was the driving maul and with an extra forward they were able to squeeze Zimbabwean international Denford Mutangira over the line.
10-10 at the the interval then. And Gala will have felt aggrieved. Thy should really have been two scores clear, such was the territorial advantage they'd had. Their coach George Graham would later admit he gave his players a piece of his mind at half time:
I think we had lots of territory and possession in the first half but I gave the players a bit of a talking to at half time, just for a change, because we weren't playing rugby, we weren't seeing where the space was and we were slowing down the ball when we should have been speeding it up.
– George Graham, Gala coach

The second half was a very different affair. Millar missed a penalty after hitting the crossbar from 48 metres out but he would not be made to rue the wasted opportunity. In a Man of the Match performance he went on to land three more penalties between 55 and 66 minutes.

The tie was settled when McQuillin, back on the field after his earlier indiscretion, redeemed himself with a try.

Full time Gala 24-10 Ayr