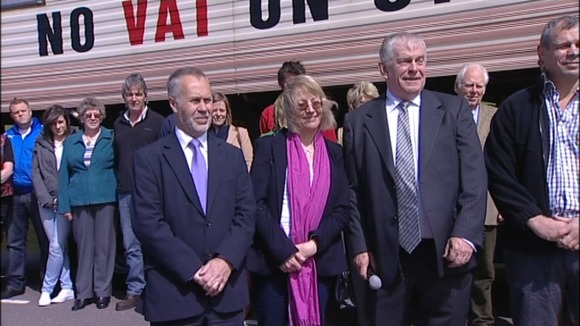 Campaigners in South West Scotland protesting against a 20 percent VAT rise in sale of static caravans have held a meeting with Dumfries and Galloway Labour MP Russell Brown.
The meeting at Auchenlarie Holiday Park at Gatehouse of Fleet, was attended by more than 50 businessmen and women from caravan parks and other tourist-related industries.
They were able to quiz their MP about the best way to change the Government's mind.
They agreed to petition other MPs and write to the treasury department directly.
Organiser of the protest, Duncan McCready, of D&M Leisure Parks, described the meeting as "very fruitful".
He warned the protest could become more strident and, if necessary, they would be prepared to drive their static caravans to Parliament and block roads at Westminster.
You can see the local community is now behind us.

The visitor attractions the wood suppliers, gas suppliers. All these people are here today because it's going to affect their businesses.

Now this campaign's not stopping here. We will take these caravans to London.

We will have the city of London blocked up and this prime minister and his coalition Government must take notice.
– Duncan McCready, D&M Leisure Parks

The chancellor says that because touring caravans have been taxed for several years, he's simply removing an anomaly.

But MP Russell Brown says that George Osborne has missed the point and is in fact putting an extra burden on a struggling tourist industry.
If there is an impact on the tourism sector in terms of static caravans this will impact on other businesses.

We have heard today quite clearly there will be job losses off the back of this.
– MP Russell Brown, Dumfries and Galloway. Labour