Cumbria's very own Queen set sail for London to represent Cumbria in the Thames Diamond Jubilee Pagaent
The historic vessel 'Queen of the Lake' will be craned out of Windermere's Bowness Bay ahead of her 300 mile journey later this evening.
Built in 1949, measuring 15.2 metres and able to accommodate up to 84 passengers, Queen of the Lake is no stranger to royalty, having carried HRH the Prince of Wales in March 2010 when he visited Cumbria and the Lake District. Her latest adventure will take her back to East Molsey on the Thames where she was constructed in 1949 by local boatbuilding company 'Watercraft'.
Nigel Wilkinson, Managing Director, Windermere Lake Cruises has told ITV Border how much of an honour it is to be involved in the Diamond Jubilee this way and explains that his mother was part of the original coronation celebrations.
"Windermere Lake Cruises is immensely proud to be part of the team preparing for such a patriotic event which will give young Cumbrian's a memory of a lifetime. A tremendous amount of organisation has gone in to this event from the local community and it will excellent to see everyone's efforts culminate in the coming week and to see Queen of the Lake representing Cumbria in such a large scale event."
– Nigel Wilkinson, Windermere Lake Cruises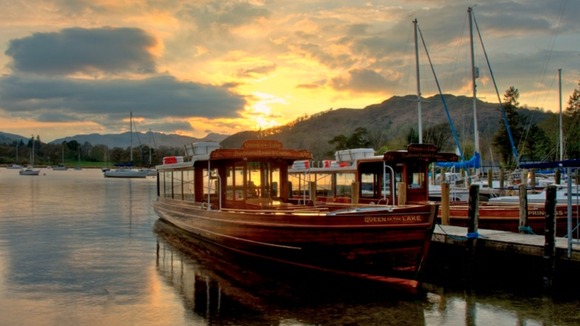 After being craned in to the Thames Queen of the Lake will be decorated in handmade yellow daffodils which have been designed and created by local schoolchildren. A Peter Rabbit mascot will also be on board.
The Thames Diamond Jubilee Pageant takes place on 3rd June and will see Queen of the Lake proudly take her place alongside Her Majesty the Queen and other members of the Royal Family in what will be the largest flotilla of modern times. The Pageant will see a thousand boats gather on the river Thames, stretching for an estimated twelve and a half miles, in celebration of the Queen's Diamond Jubilee.
Windermere Lake Cruises carries around 1.35 million passengers each year. Queen of the Lake is one of the company's four traditional wooden launches. Registered on the National Register of Historic Vessels, she is one of only 15 vessels taking part in the entire 1000-strong pageant that is listed on the National Historic Fleet.
This video shows the boat being lifted out of Windermere ready for its journey to London and the Thames flotilla.