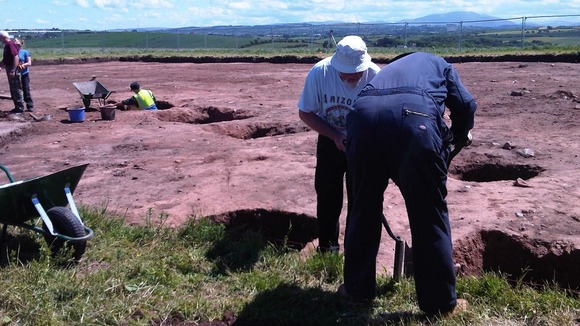 The mystery surrounding the history of 17 Roman military altars found in Cumbria could now be solved.
When the relics were unearthed in the late 1800s, scholars orginally thought they had been buried in Maryport as part of a religious ceremony.
But a dig last year discovered they had in fact been reused as the foundation stones to a large late Roman building.
Today a team from Newcastle University and west Cumbrian volunteers have started to dig again to find out what that building was.
"We are delighted to be excavating at Maryport again. The results of last summer's research were exceptionally important.

"Until last year's excavation it was accepted by Roman scholars worldwide that the 17 Maryport altar stones excavated in 1870 at the site - Britain's largest cache of Roman altars - had been buried as part of a religious ceremony.

"It turns out they were re-used in the foundations of a large Roman timber building or buildings.

"This year we're excavating over a larger area than last year - about 400 square metres - and for twice as long, which means we can involve more local volunteers, and learn more about the number of timber structures, their size and date.

"We need to find out what the buildings were used for and whether they and the curved ditch we discovered in 2011 have any relation to each other.

"We're also looking for evidence on the techniques of earlier archaeologists working on the site."
– Ian Haynes, Professor Ian Haynes

The excavation will run for 10 weeks. This year's project will cost a little over £100,000, £60,000 of which is provided by the Senhouse Museum Trust which runs the Senhouse Roman Museum, while the remainder is contributed by Newcastle University.

The team includes archaeologists and students from Newcastle University and 42 local volunteers.

For the full video report see below