More than 30 employees from North West holiday park company, South Lakeland Parks are taking on their own Olympic-style challenge and torch relay to raise money for Cancer Care.
They will cover 100 miles in a huge relay incorporating running, cycling, horse riding, rowing, canoeing, and swimming. Their finish will coincide with the Olympic torch's relay into Bowness on Thursday.
Starting from Todber in the Ribble Valley, three staff will kick off the relay with a 20-mile tandem bike ride before handing a custom made torch to the next cyclists to complete the further 17 miles to Marina Park at Glasson Dock near Lancaster.
The climax of the relay will be at Fallbarrow Park in Bowness on Windermere where Managing Director, Nigel Wimpenny will bring the South Lakeland Parks torch home by canoe just 30 minutes before the Official Olympic Torch will be making its way across Windermere on its journey into Bowness.
Caroline Farrer, Group Marketing Manager at South Lakeland Parks said:
"There are going to be huge celebrations in Bowness when the Olympic torch arrives and we wanted to get into the spirit of the occasion by staging our own mini event that our staff and guests could get involved in across the North West.

"Obviously we won't come anywhere close to the miles run by the official torch bearers but we will be covering an impressive 106.9 miles through some fabulous Lancashire and Lake District scenery so we hope as many people as possible can come out to cheer us on and help us raise as much money as possible for such a worthy charity."
– Caroline Farrer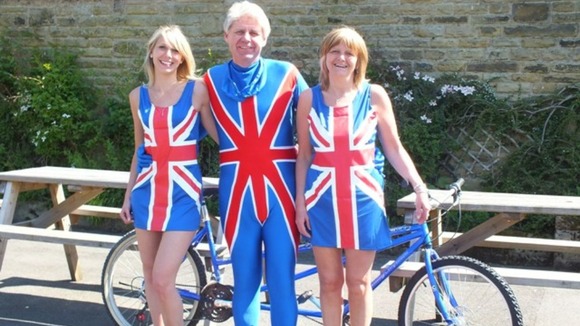 Lynne Stafford, Chief Executive at Cancer Care will also be a guest runner for the final leg of day one and will carry the South Lakeland Parks' torch between Hawthorne Park in Morecambe and Ocean Edge in Heysham.
She said:
"Many local people and organisations think up different and fun ways of raising money for Cancer Care that it's impossible for us to be involved with all of them, although we would certainly love to be. So I am very excited about personally taking part in a leg of this relay, which is such a great idea.

"The enthusiasm shown by South Lakeland Parks' staff has been inspiring and we wish them all the best in their efforts to raise much needed funds for our charity. With their help Cancer Care can continue to help local people whose lives are affected by Cancer."
At the same time as Lynne is running her leg, the Assistant Manager at Ocean Edge, Vicki Jones will also be swimming the equivalent 1.9 miles in Ocean Edge's indoor swimming pool.
The individual legs of the relay are as follows:
Day One, Wednesday 20th June:
· Todber, Ribble Valley – Marina, Lancaster – 45.2 miles
· Marina, Lancaster – Regent, Morecambe – 8.7 miles
· Regent, Morecambe – Hawthorne, Morecambe – 3.3 miles
· Hawthorne, Morecambe – Ocean Edge, Heysham – 1.9 miles
Day Two, Thursday 21st June:
· Ocean Edge, Heysham – Gatebeck, Endmoor – 22.4 miles
· Gatebeck, Endmoor – Head Office, Natland – 2.8 miles
· Head Office, Natland – Limefitt, Troutbeck – 14.4 miles
· Limefitt, Troutbeck – White Cross Bay, Windermere – 3.2 miles
· White Cross Bay, Windermere – Fallbarrow, Bowness – 3 miles