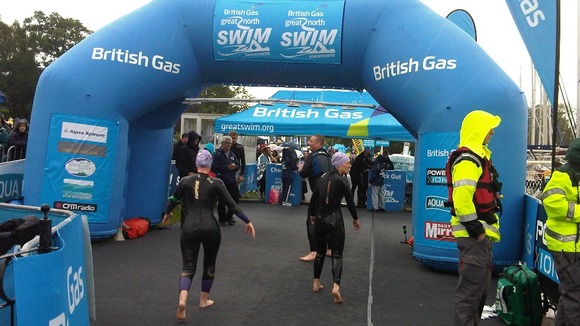 After being called off for two days because of the weather, thousands of swimmers finally took part in the Great North Swim on Windermere.
People of all abilities took to the water to raise money for their chosen charities. They were joined by elite swimmers and Olympic who used the race as a training session.
High winds meant races couldn't go ahead on Friday or yesterday as organisers say they couldn't guarantee the safety or participants.
Those due to take part in Friday's event were given the opportunity to swim today in a rescheduled event. Swimmers hoping to take part yesterday however, were given a full refund.
"What we are doing today is the people who are were going to take part in Friday in the two mile wave, we've invited them to take part this afternoon and then we have got the full Sunday programme that we previously planned so unfortunately the Saturday swimmers won't get their chance this weekend.

"Of course we recognise after months of training how disappointed people will be but ultimately it is the safety and wellbeing of participants has to be our number one concern."
– David Hart, organiser Great North Swim