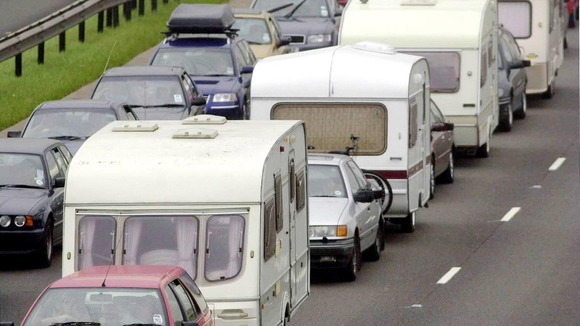 Tourism businesses in Cumbria and southern Scotland are suffering as the rain keeps visitors away.
Caravan parks and campsites are reporting that bookings are down 50% on this time last year and hotels are struggling too.
At the Rowanbank caravan site in Silloth the general manger says even if the sunshines until the end of September they won't be able to recoup their losses.
The weather has been particulary bad this year as opposed to last season, I think the park is about 50% down on bookings.

"We have had bookings but obviously with the adverse weather we have had people who just don't come."
– Trevor Taylor, General Manager

He believes more needs to be done locally to encourage local businesses to work together to show tourists that there is more the area than walking.
The tourism board could get local businesses to maybe work together, help each other that would be an advantage for everybody I would think.

"The people who come here maybe don't know that there is a local aquarium and Roman museum in Maryport."
– Trevor Taylor

Hotels are also suffering. In Cockermouth the Trout Hotel is having to use last minute booking websites to fill the rooms. But they say food and beverage sales have actually increased on the figure last year.
I think people locally have got very sick of the weather and decide to treat themselves so we have been very busy in the bar and restaurant.

"But we are struggling at the weekends to sell the rooms. The late booking facility means we can offer people great deals at the last minute."
– Lorraine Barr, Trout Hotel

Cumbria Tourism say they have a new marketing scheme to try and boost visitor numbers.

See below for the whole video report.