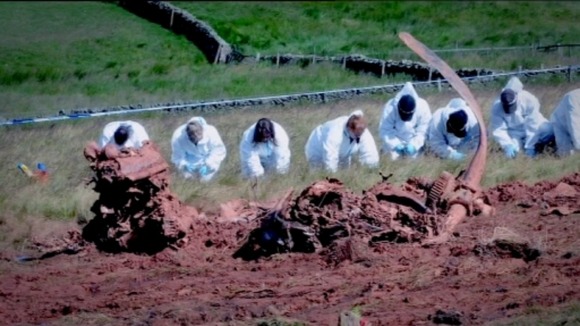 It's almost 70 years since a young Spitfire pilot died at Westruther after crashing on a training flight. Malcolm Robertson was 20 years old, and a sergeant in the Royal New Zealand Air Force.
Sergeant Robertson was buried in Glasgow but his story has risen to prominence after human remains were discovered at the crash site. They were found by aircraft enthusiasts who were recovering the Spitfire.
Since then, the police have been searching the site, assisted by anthropologists from Dundee University. Sergeant Robertson's family are being kept up to date.
We're in close contact with the family at this time and they're fully aware of what we're doing. We're treating the scene with as much dignity as we can.
– Inspector Brian MacFarlane, Lothian and Borders Police

The crash happened in January 1943. In the high pressure atmosphere of World War Two, Sergeant Robertson's story was all too common. Large numbers of pilots died on training flights.
In Scotland it was in the thousands in the six years of the Second World War alone and over the whole of the UK it was tens of thousands and that's just training flights, not people being shot down by enemy aircraft.
– Ian Brown, National Museum of Flight

The police search at Westruther is now complete and tests will begin to identify the remains.