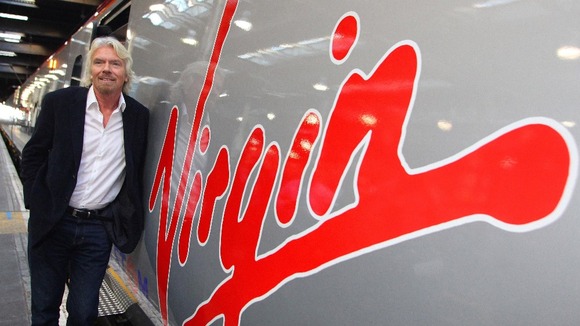 Sir Richard has offered to effectively run the route for free to allow the decision awarding the franchise to FirstGroup to be re-examined.
It comes as Labour today urged Transport Secretary Justine Greening not to sign off the contract until MPs have been able to scrutinise it in detail.
More than 100,000 members of the public have also signed an online petition against the decision, in a campaign supported by double Olympic champion Mo Farah, Apprentice star Lord Sugar and celebrity chef Jamie Oliver.
The Transport Committee is absolutely right to ask for a delay. The growing public concern about the franchise, and lack of answers from the Department for Transport, means that a pause for reconsideration is essential to let Parliament examine this very important issue.
– Sir Richard Branson

Sir Richard, who has claimed that FirstGroup's bid will lead to "almost certain bankruptcy", said Virgin Trains and Stagecoach would operate the joint venture on a not-for-profit basis or donate profits to charity if the franchise needed to be extended beyond December for a few months to allow Parliament to investigate the decision.
I think that the person that can really intervene to try to getsome sense into the Department for Transport is the Prime Minister and thePrime Minister is currently on holiday, the Chancellor is on holiday and we would like things delayed by a month or so.

If, as a result of that, it means that the handover is delayed wewould obviously be very happy to run it on a not for profit basis."
– Sir Richard Branson speaking to BBC Radio 4

FirstGroup claims it will deliver better value for taxpayers. It plansmajor improvements to the West Coast franchise to enhance thecustomer experience, including improved wifi and catering, as well asadditional services and more seats and reducing standard anytime fares by an average of 15%.

In a letter to the Transport Secretary, shadow transport secretary MariaEagle wrote:

"The decision appears almost exclusively a 'bottom line' one, driven by a particularly high pledge of payments to Government.

First Group's successful bid of £5.5bn was significantly higherthan any other bid, including the £4.8bn offered by the incumbent.

You will know of the history of franchise contracts being broughtto an early end, at least in part because of over-ambitious payment promisesthat proved impossible to realise. There are fears that lessons have not been learnt."

Ms Eagle also warned about the impact on fares and levels and quality of services and the possibility of First cutting short the contract.

She added:

"Due to the wide-ranging nature of these concerns, I would therefore urge you to delay any signing of this contract until after youhave made the statement to parliament - a statement I'm sure you will agree isappropriate for such an important and contentious decision."
The shambolic handling of the West Coast franchise has not only left 800 of our members' jobs hanging by a thread but has also exposed the chaos right at the heart of the Transport Department and the insanity of government rail policy which revolves around a poisonous cocktail of cuts, fare increases and private profits. The only sensible solution is renationalisation if we are to avoid the anarchy of an action replay of the east coast route collapse.
– Bob Crow, RMT Union Leader