Work is continuing to dismantle the last remaining wall of the block of flats that collapsed into the River Ehen in Cleator Moor.
Demolition began on the evening of Tuesday 28th August, the day the building collapsed.
Residents of the flats weren't allowed in to rescue personal belongings as it wasn't deemed safe.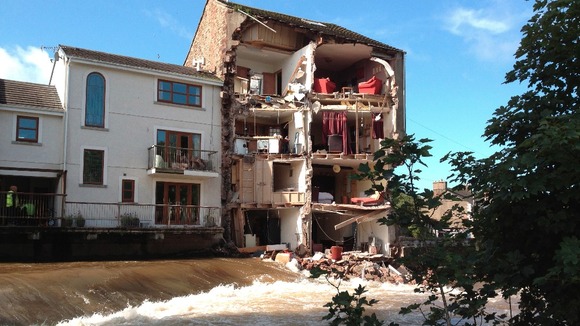 Pat Graham, Director of Services Copeland Borough Council told our reporter:
"There's no evidence at this stage to link the collapse of the flats with the damage to the weir close by. We just know that a phenomenal force of water was flowing down the Ehen and that caused the damage on Monday night.

"At the moment the Environment Agency and ourselves are focussed on making the area safe. Last night we managed to remove the roof, today we are looking to take down the gable end."
– Pat Graham