Plans to restore a harbour in southern Scotland could help the region's growing timber industry.
The Kirkmabreck Quarry Pier off the A75 in Dumfries and Galloway was mothballed ten years ago after being used for processing and transport of quarry materials.
The outcome of a feasibility study into the restoration of the pier for the transportation of timber, is to be put before local councillors.
The study shows it is capable of taking vessels up to 2000 tonnes with a single ship able to carry the timber lorry equivalent to 60-80 lorry loads.
Surveys have indicated that the quay wall needs urgent repair but the main tasks would involve berth deepening work and a total cost of bringing it back into use has been put at £250,000.
James England, the South of Scotland Timber Transport officer, said it would allow timber to be shipped in from Argyll and West Scotland instead of by road haulage as currently happens.
He said:
"There are a number of local timber processing facilities in the area based at Dalbeattie, Lockerbie, Annan and further afield in Carlisle with some smaller mills located within the region.

"This means that a lot of timber moving within the region as well as a substantial amount of processing which is done locally.

"To remain competitive against foreign imports the processing facilities are mainly state-of-the-art and continue to have significant amounts of money invested to ensure they maximise efficiency.

"Continuity of supply is important and so having a facility such as Kirkmabreck could help source timber from far afield such as Argyll or the Highlands."
– James England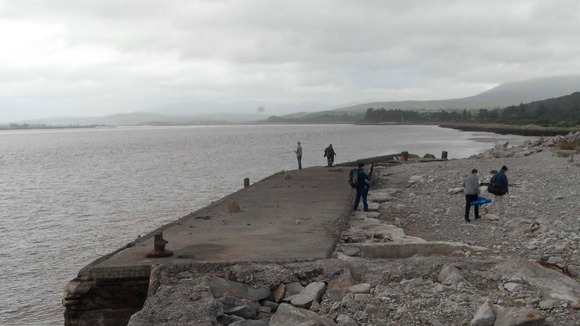 He added that this would reduce the environmental impact, reduce the impact on the road system and substantially reduce the number of timber road miles travelled.
He also said on that a paper manufacturer based in England had expressed demands for more pulping wood from the region and this could be transported in a cost effective way by ship from Kirkmabreck to Workington.
He added:
"Several firms have expressed an interest in using the quay facility including two large sawmill businesses and a large paperboard manufacturer.

"Initial operation of the pier could see six to 12 boats using the facility each year. Each ship load would be the equivalent of 60 to 80 lorry loads.
– James England

He also said that another potential commercial interest was for shipping pulp wood and round timber to other areas such as North Wales.

Mr England said that currently forestry and wood processing industries in the South of Scotland maintain more than 3,000 jobs.