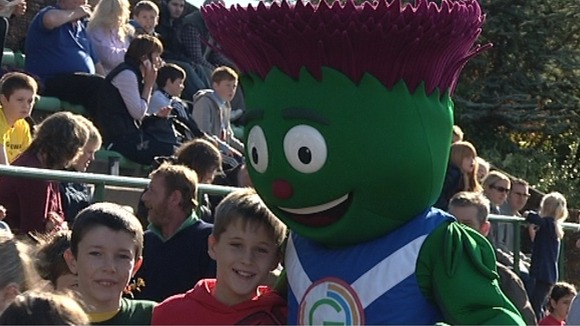 Hundreds of school children from across Dumfries and Galloway have been competing in the 'Active Games' final, which aims to build on the success of the Olympic and Paralympic games in helping to inspire the next generation of athletes.
The event was also a chance to look forward to the Commonwealth Games of 2014, which are taking place in Glasgow. Although the children competing today won't be a part of those games, the hope is that having a major sporting event so nearby will help to inspire them and create the next sporrting superstars of the future.
Everything from cycling time trials to standing long jump were included in the programme of events today, which featured over 400 local children - with each school representing a different Commonwealth country. On hand to spur competitors on were Olympians, Paralympians and a selection of athletes who've appeared at previous Commonwealth Games.
At a time when all aspects of public spending is being examined, events like this still enjoy generous funding and are given a high priority by the Scottish Government.
"The wide and diverse nature of the Games for Scotland programme illustrates perfectly that there's more to the 2014 Games than just sport. The Games coming to Scotland provides an exceptional opportunity to make our nation healthier and celebrate our modern and vibrant culture."
– Shona Robison, Minister for Commonwealth Games and Sport

'Clyde' the thistle shaped mascot for the games was unveiled earlier this week, and today's event was the first where he's made an appearance. Expect to see a lot more of him in the coming months as Glasgow gears up to take over from where London left off.