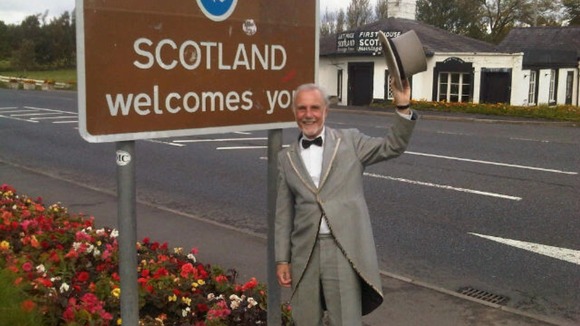 A 70-year-old man walking 7,900 miles for charity, has reached the England/Scotland Border today.
Andy Peddle is taking on the marathon walk across Britain dressed in a top hat and tail coat, to raise money for the Salvation Army, and is raising awareness of homelessness and human trafficking.
He started the journey on the Shetland Isles in May, and has already crossed the North of Scotland, Northern Ireland, Ireland and North Wales up to Cumbria.
So far, Andy has walked 2,000 miles and has raised around £10,000.
He told our reporter:
"It's great knowing I have reached the 2,000 milestone. Just another 6,000 miles to go! I have walked through the floods so it is nice to have a sunny day as I cross the Border to Scotland."
– Andy Peddle