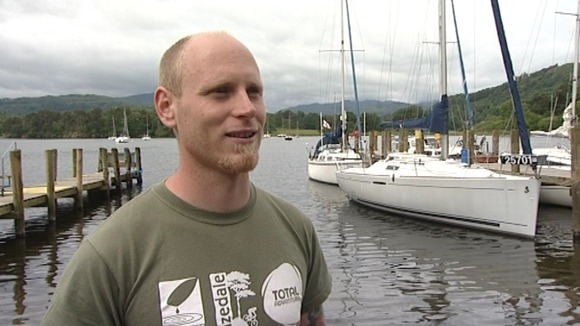 A man who survived a 40 feet fall from a Cumbrian mountain which broke nearly every bone in his body, is going to take part in a 200 mile journey to raise cash for the people who saved him.
Joe Beaumont was involved in an accident in February 2011 while climbing in Eskdale. He suffered extreme concussion, nerve damage and broke nearly every bone in the right side of his body. He was saved thanks to the efforts of the Wasdale Mountain rescue team, RAF Boulmer and staff at the west Cumberland hospital.
He still cannot walk without pain and has a broken leg which hasn't healed.
Now in an effort to say 'Thank you' to those who saved him he will embark on a 200 mile coast to coast challenge.
The ride will be on a recumbent trike, as he is unable to use a standard bicycle, due to his disability; Joe is unable to hold the handlebars or put pressure on his legs.
The challenge will take 8 days, starting at RAF Boulmer in Northumberland, which seemed as this is where the Sea-King helicopter was dispatched to begin Joe's emergency rescue.
He will be visiting the towns of Alnwick, Harbottle, Bellingham, Haltwhistle, Alston, Langwathby, Keswick, ending at The Wasdale Show at Wasdale Head, Cumbria on Saturday 13th October. Joining Joe on this epic ride will be his twin brother John and their Hungarain Vizlas dogs, Bodhi and Jeb. Joe's mum Janet and best friend Mike Dewsnap will also be part of expedition.
Joe said:
"I'm embarking on this recumbent trike challenge in respect for the people that saved my life; The Wasdale Mountain Rescue Team and the crew from RAF Boulmer.

" My life has been completely turned upside down by last year's climbing accident but I'm so grateful to so many people including surgeons and specialists who put me back together, and to my family and friends who've supported me through my difficult and ongoing recovery.

"During a frustrating convalescence, I imagined attempting some form of personal challenge but it was only after a visit to Boulmer that I was inspired with the idea of traveling from east to west coast.

"I want the challenge to not only bring awareness of the great work my rescuers do but also to raise money for The Wasdale Mountain Rescue Team, because a charity, they need approximately £30,000 per year to ensure they can always be there in time's of people's need."
– Joe Beaumont