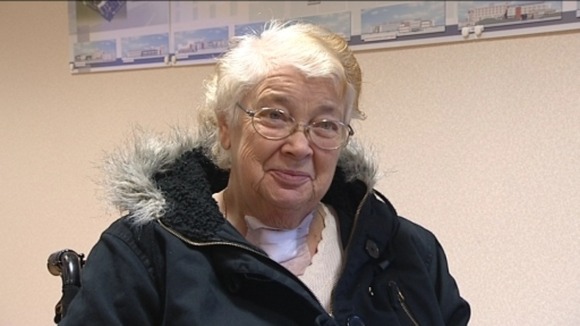 A woman who came round from a coma after being visited by a Workington Town player returned to hospital to say thank you.
Yvonne Matthews had suffered a heart attack and had been unconscious for three weeks before Marc Shackley, who also works at the West Cumberland Hospital, visited her bedside.
Mrs Matthews woke up following his visit and has now made a good recovery.
Her husband says Marc and the nurses at intensive care are the only reason his wife is alive.
'He gave a picture of him in his playing gear and it had 'get well soon Marc' and we showed it to her face, hoping she would be able to hear us and from that day she just seemed to come back to us and here she is today.

'He's helped to give a wife, a mother and a great grandmother back and we will always be in his debt.'
– Keith Matthews

Mr Matthews is planning to try and raise enough money for six Ipads for the Intensive Care Unit as a thank you.

Marc said he was happy to help.
'It's humbling little things like that help. But I was delighted to help and it was great to see them again today. They are both looking well.

'If Keith needs help getting money then I will do my best to help him, they are a lovely couple.'
– Marc Shackley

See below for the full video report