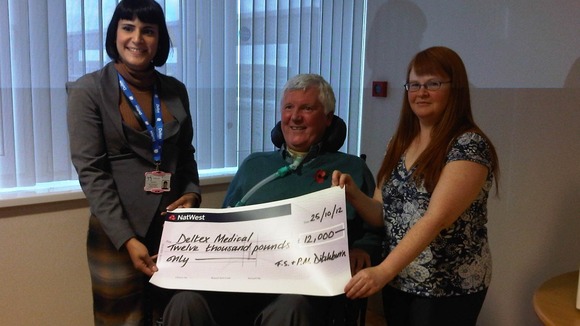 A man who has scaled his second mountain since being diagnosed with Motor Neurone Disease is returning to the hospital that saved his life to present them with new equipment.
Fleck Ditchburn spent 175 days at the West Cumberland Hospital last year after being admitted with collapsed lung and pneumonia.
Mr Ditchburn was diagnosed with the disease in 2009, his health gradually deteriorated but the former marathon runner has scaled Skiddaw and Blake Fell in his wheelchair.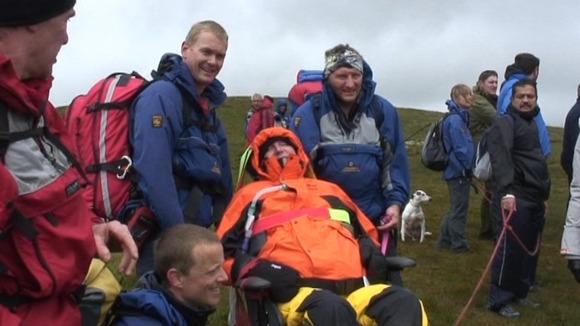 He was helped by the Cockermouth Mountain Rescue Team and friends and family. In total they raise £7,500 which will buy an oesophageal Doppler for the Intensive Care Unit.
"I have no movement because the neurons that control my muscles are totally destroyed.

"In April 2011 I realised that my breathing was beginning to be affected with the deterioration of my chest muscles. In June 2011 I was admitted to West Cumberland Hospital with a collapsed left lung and pneumonia.

"Following two painful, sleepless nights on general wards, I was admitted to ICU. Consultants, doctors and nurses gave me little chance of survival but through their skill, determination and care, I am here to tell my story."
– Fleck Ditchburn

The monitor is designed to help reduce the amount of time spent in hospital after surgery.

Dr Fiona Graham, Consultant Anaesthetist at West Cumberland Hospital, said:
"The monitor offers many advantages for both our patients and the NHS. The staff in ICUwould like to thank Fleck for his incredible fundraising efforts in order to raise the moneyneeded for the device."
– Dr Fiona Graham