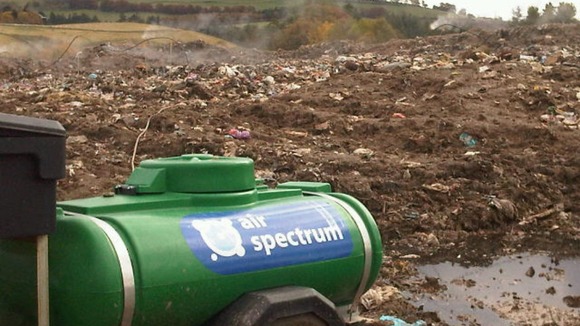 A giant air freshener has been installed at a landfill site in the Scottish Borders to try and combat smells that are upsetting nearby residents.
The 'odour control unit' is at the Easter Langlee rubbish dump in Galashiels. Locals claim the stench from the dump travels up to a mile away.
The council have said they think the smells from the dump, which serves the whole of the Scottish Borders, have been exacerbated by the wet weather.
Local landowner Tom Douglas has described the smell as 'appalling' and said:
"I am sure if my septic tank smelled like that SEPA (Scottish Environmental Protection Agency) would be right on to me. It is particularly bad just now because there is no wind."
– Tom Douglas, local resident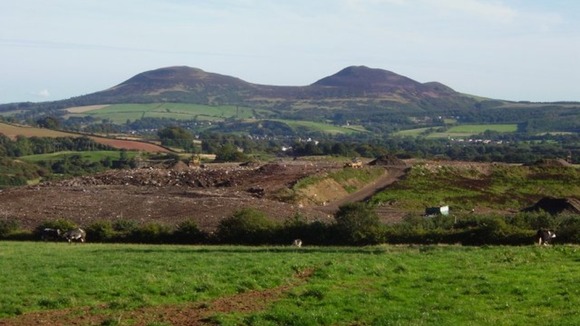 Scottish Borders Council installed the 'Odour control device' to try and deal with the stench.
Ross Sharp-Dent, Waste Manager at the Council explained:
"We have recently become aware of local concerns regarding unpleasant odours which appear to emanate from Easter Langlee Landfill site.

"SBC was already aware of and investigating this matter and will put in place a number of actions which will help in resolving the issue as quickly as possible.

"We are working closely with Scottish Environmental Protection Agency (SEPA) not only to identify the exact source of the odours - but to develop an action plan to help minimise the release of landfill gases that are the most likely cause of the odour.

"The action plan includes continuing work to cap areas of the landfill and to expand the landfill gas management system. This has a number of operational benefits including the potential to reduce landfill gas emissions.

"In addition we have hired an odour control unit which sprays a fine mist of odour neutralising agent into the air. Its performance will be monitored over the coming days and weeks.

"Whilst we can not be certain, we believe the recent wet weather has played a significant part in causing the odours.

"We have organised a meeting with the Coopersknowe and Easter Langlee Residents Association to which a representative from SEPA will attend. "This will allow us to update them of our progress and discuss any other concerns they may have.

"We hope to build upon the good relationship we have developed with the residents of Coopersknowe and Easter Langlee over the last few years."
– ROSS SHARP-DENT, WASTE MANAGER, SCOTTISH BORDERS COUNCIL