Cumbrian Special Chief Inspector wins award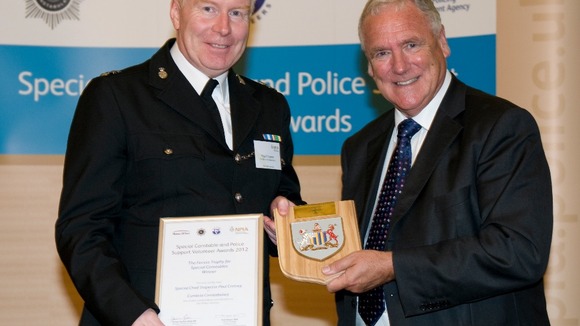 Special Chief Inspector Paul Cretney has been awarded for his contribution to the Special Constabulary.
He was presented with the overall winners Ferrer'sTrophy for 'outstanding individual contribution to the Special Constabulary, the police service and the Community'.
Mr Cretney collected his award on 19th October at the the Special Constabulary and Police Support Volunteers Awards in London.
"It is an honour to receive theFerrer's award as I believe it recognises the contribution of the North Cumbria team of specials over the last couple of years and the integration within the neighbourhood policing teams.

"I could not have achieved the award without thesupport I have received from BT as my employer. Their approach to flexible working and additional leave for volunteering has enabled my commitment to Cumbria Police."
– Special Chief Inspector Paul Cretney

The Ferrer Awards were first held in 1993 to recognise the work of those donating their time and effort to assist forces around the country.

They were originally named after the then Home Secretary, the Special Constable and Police Support Volunteer Awards.
" These awards illustrate the myriad crucial roles that special constables and police support volunteers fulfil in forces.

"Whether it is policing football matches, stopping the sale of counterfeit goods or helping police and paramedics deal with late night revellers, these men and women show what an addition they can be to British policing.

"Their dedication in a voluntary role is inspiring and enhances policing across England and Wales."
– Lord Taylor of Holbeach, Home Office Minister

He works for BT as a senior project manager and volunteers around 18 hours a week as a Special.
" Every day special constables and police support volunteers give up their free time to make a valuable contribution to protecting local communities.

"We are proud to have supported their efforts by helping to professionalise the Special Constabulary and working with forces to ensure that police support volunteers add real value to policing. And we are proud to pay tribute to their achievements."
– Paul Minton, Chief Executive, National Policing Improvement Agency