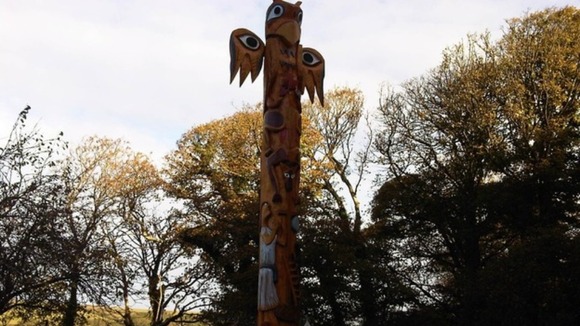 A woman from St Bees has bought her husband an unusual gift for his 80th birthday - a totem pole.
Maureen Reid's husband Malcolm has been fascinated with totem poles since he visited Canada 10 years ago.
The totem pole was hand carved in Minnesota in the United States and shipped to Liverpool before completing its journey to St Bees.
""Malcolm was in hospital earlier this year and was quite unwell. I was trying to think of something to lift his spirits so told him I was buying him a totem pole.

"He didn't believe I would do it, but I did and it was worth it just to see the look on his face when he tried to open it. He couldn't open it quick enough."
– Maureen Reid

The pole has different pictures carved into it all representing a different part of Malcolm's life and personality.

His birthday is on Tuesday and he says it is the best present he has ever had.
""When it arrived I just wanted to open it to get a good look at it. It was weeks before we actually got it up and what a sight when we did.

"If people stop and look at it when they walk past we invited them in for a good look. It's a marvelous present."
– Malcolm Reid

Malcolm told ITV Border about the arrival of his totem pole:

Here is some footage of the totem pole: