Cumbrian nurse wins national award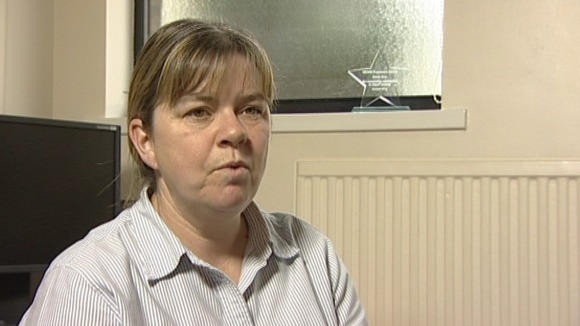 A leading cancer nurse at North Cumbria University Hospitals has won a national award in recognition for her outstanding contribution to cancer nursing.
Consultant Cancer Nurse Helen Roe was awarded the 'UK Oncology Nursing Society's President's Award', an award only given out bi-annually.
"In my opinion, Helen has made an outstanding contribution to cancer nursing. I have worked with her closely over the past few years. Her knowledge, passion and professionalism is a rare thing to find in nursing today. I commend her commitment to cancer nursing and have found her to be a great support to me in my role whilst I was the UKONS President.

"I hope this award gives Helen some recognition for her contribution to the cancer nursing world. It is awarded to her from peers, which is the greatest recognition and accolade a cancer nurse can receive."
– – CHERYL VIDALL, OUTGOING PRESIDENT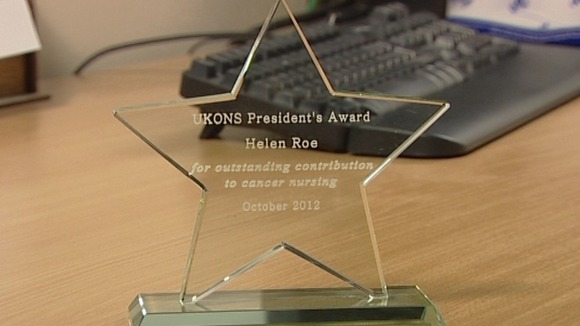 The prestigious award acknowledges the work Helen has done throughout her nursing career, and in particular, since she became one of the UK's first Consultant Cancer Nurses 11 years ago.
Judges highlighted specific attributes in choosing Helen for the award, including her work on online learning modules, her involvement in the development and publishing of position statements, and her various publications on cancer nursing.
Vivian Waugh lost her daughter Jennifer to cancer earlier this year. She said Helen helped them through the heartbreaking illness:
"Helen was our stronghold if we needed questions, if Jennifer needed to come in to see anybody if she was worried about her health, Helen was on the phone to either Newcastle or here to get the best advice, she was a godsend for us, she really was."
– – VIVIAN WAUGH

The award was given to Helen for work with patents, for nurse-led clinics and for her contribution to cancer care publications.

Helen told ITV Border:
""I think it was nice because it was a UK award and to have been nominated and receive the award, and for someone to actually think yes, she deserves that award, it wasn't actually someone from my organisation or one of my patients that I care for that nominated me, it was people that I work with on a national and a European level, so it did mean an awful lot."
– – HELEN ROE, AWARD WINNER