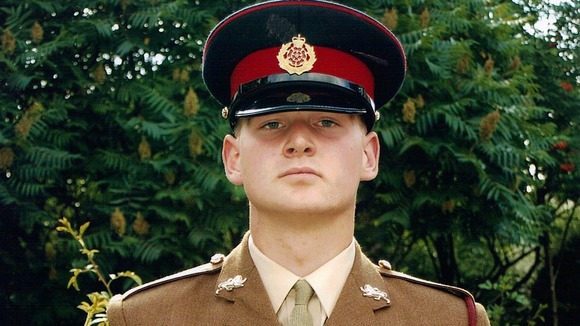 The funeral of Kendal soldier Kingsman Ryan Ward is due to take place with full military honours.His family have paid tribute to him saying he was a 'true professional soldier.'
20 year old Kingsman Ward was found dead at his home in Lound Street, Kendal on the 27th October.
He served with the 2nd Battalion The Duke of Lancaster Regiment and was attached to the Yorkshire regiment. He leaves his mother, father and brother Mark.
Kingsman Ward's family said:
"Ryan was a true professional soldier who loved his job and lived his life to the full. He served 2nd Battalion Duke Of Lancaster's Regiment with great honour. He also deployed to Afghanistan with 3rd Battalion The Yorkshire Regiment and served them with distinction.

"During his time in the Army Ryan had shown undoubted loyalty to his brothers in arms, they regarded Ryan as a true esteemed colleague. One of many highlights of Ryan's Army career was to represent AFC Harrogate in Australia on a rugby league tour, which he was immensely proud of.

"He will be sadly missed by his Mother, Father, Brother, Family and friends. He will always be a true hero in all our hearts."
– Kingsman Wards Family

Lieutenant Colonel Neil Unsworth, the Commanding Officer of the 2nd Battalion The Duke of Lancaster's Regiment, said:
"The 2nd Battalion is shocked and saddened by the tragic death of Kingsman Ryan Ward. Our thoughts are with his family and close friends at this awful time."
– Lieutenant Colonel Neil Unsworth

Local MP Tim Farron has called for the people of Kendal and the local community to line the streets in respect for Kingsman Ward. He has spoken to the family who have said they would like as many people as possible to honour Ryan:
"Meeting Mr Ward [Ryan's father] was humbling - but it was also inspiring, he is determined that our town honours Ryan. He told me that he would like me to try and make sure the town comes out in droves to pay tribute to his son on the day of Ryan's funeral. I promised to do everything I could to make that happen.

"On Monday 12th I imagine our whole town and our community will turn out to honour one of our own. Many of us knew Ryan and know that he was a wonderful lad who was proud to be serving his country. This is an opportunity - the day after remembrance Sunday - for us to stand together as a community and pay our respects to Ryan and his family."
– Tim Farron MP

Ryan's full military funeral is being held on Monday 12th November at Kendal Parish Church from 12noon - 1pm (firing shots about 12.45) - the funeral party will then leave Kendal Parish church about 12.45 and walk slowly along Highgate to the Town Hall then heading to Parkside Cemetery.