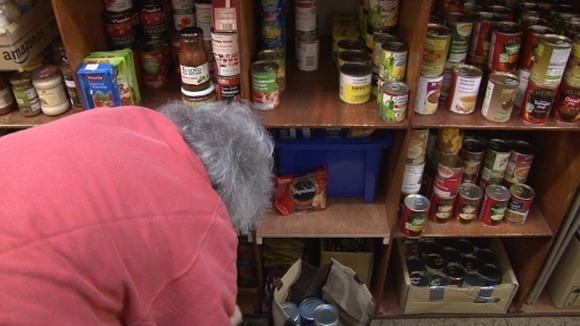 It's been busier than ever this Christmas at Cumbria's four main food banks. These are places where volunteers distribute donated food for families and individuals who are on the very margins of society.
It's not just the homeless who are helped. Anyone who is suffering a crisis including families and single people can be referred for emergency food parcels.
The number of handouts has increased dramatically across Cumbria.
At the North Lakes Foodbank which distributes in Workington, Whitehaven and Cockermouth they helped 420 people last month; in Carlisle it was 130 and in Kendal they distributed nearly 800 meals.
Some of the people who come here haven't eaten for days. Some of them are rough sleepers and I don't think anybody wants to admit they need food from a Foodbank. People are hungry when we see them.
– Rachael Rodway voluteer, Carlisle One World Centre Foodbank

Most of the food banks in Cumbria were only set up last year in response to increased need. Across the UK they are currently being established at the rate of three a week.
If you've just lost your job. If you can barely pay the rent and people are clamouring for their bills to be paid then it's very very hard to make ends meet and you can't wait for benefits to arrive some way down the line. I think what the Government needs to do and consider is ways in which you can provide immediate stop gap emergency help.
– Tim Farron MP, Westmorland and Lonsdale (Lib Dem)

It might be shocking that third-world style hand outs are going on right on our doorstep but the fact that the need for them is rising is causing real concern.