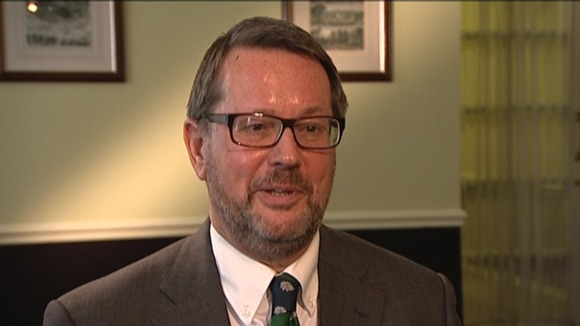 West Cumbrian councillor Tim Knowles quit his post as member for Transport and Environment on Cumbria County Council's cabinet.
Cllr Knowles said it 'was a matter of principle' that meant he could not continue in his role on the cabinet.
Last week county Councillors decided west Cumbria would not have high level nuclear waste buried below its surface. Cllr Knowles had tabled a motion to look for a site but excluding the National Park.
In his resignation speech Cllr Knowles hit out at Leader Eddie Martin. Speaking exclusively to ITV afterwards he gave his reasons for leaving:
'Well I don't think that senior politicians involved in leading strategic authorities responsible for the future of half a million people should use phrases like 'prostituting the soul of Cumbria for a few pieces of silver' in describing what professionals and colleagues have been moving forward with and working on.

'It's a very old fashioned thing called a matter of principle, I can not work in an executive group that has taken a decision that I fundamentally disagree with and is going to prejudice the interest of the people I represent.'
– Cllr Tim Knowles

Since last weeks decision there have been allegations that Conservative councillors in the cabinet were instructed to vote NO by Leader Eddie Martin.

Cllr Knowles said during the cabinet meeting there had seemed to be inconsistencies between what councillors said and how they voted.
'What goes on behind closed doors is always difficult to determine. I suppose the only way one would ever find out about that were if there was a legal challenge to the decision and it maybe that would come out. But I genuinely believe my colleagues on the councils are very honourable people and it would be very disappointing if what you heard privately was true.'
– Cllr Tim Knowles

But the allegations were denied by the leader.
'At twenty past nine of the morning of the debate last Wednesday I said to my members in my office you are free to choose as you wish. However, just as like Tim Knowles has said if I lose the vote I will have to consider my position, Stuart Young and I said exactly the same thing obviously if the leader of the council loses a vote the he would seriously have to consider his decision and that's what I said.
– Cllr Eddie Martin, Leader Cumbria County Council

Cumbria County Council's vote against the nuclear repository was raised in the House of Lords this morning by Lord Jenkin of Roding .

He was worried that the councillors could have had pressure put on them to vote no, because of an email sent out by an anti nuclear campaigner.
'It contains if I may say so a chilling message. What it says is what they need to have is a campaign to tell the councillors of the threat that they might be personally liable for irrational or reckless decisions paricularly ones which do not put the care of their constituency at the heart.

"The point is, it goes on, is to scare the crap out of them personally when they got to vote. My Lords, is this any way to treat a serious government consultation?"
– Lord Jenkin of Rodding

Minister for Energy and Climate Change Baroness Verma said she would look into the allegations.
'I will look very carefully and if it is something that I need to raise further and it looks as if it is intimidation then I will take it as a matter for perhaps the police to look at.'
– Baroness Verma

So as the fall out continues from last weeks decision, one councillor leaves his executive post and investigations are launched into whether intimidation was a factor is the decision last week.