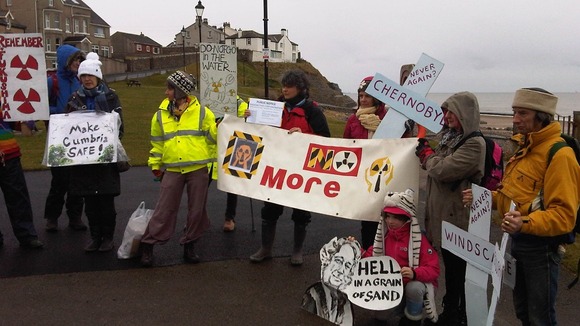 Anti nuclear campaigners have marched along a stretch of beach in west Cumbria to highlight that radioactive particles have been found in the sand.
They put up signs to warn people using the beach at Seascale of the discovery. They believe the beach has been contaminated by radioactive particles from the nearby Sellafield nuclear plant.
'Sometimes people who are walking along the coast line will see an argo cart going up and down and picking up radioactive particles which are really dangerous to human health and the public should know about it.

'Particles have been found elswhere in the UK and there are signs up warning the public about the radioactive particles so why on earth isn't Sellafield doing that here?'
– Marianne Birkby, Radiation Free Lakeland

After putting up their signs the group made their way along the foreshore towards Sellafield carrying banners and placards.

As they walked away local councillors quickly removed the signs and accused the anti nuclear campaigners of scaremongering.
'We are taking this down because it has no standing whatsoever these notices have been put up illegally.

'We have taken advice from the Health Protection Agency and they have advised us that the particles that have been found on the beach pose no risk to health whatsoever, we've asked if we require signs on the beach and they've said no.

'They are trying to scaremonger the people who use this beach on a daily basis and it isn't right. Yes particles have been found but they are not harmful.

'My children have played on this beach, my grandchildren play on this beach. I wouldn't let them play on this beach if I believed there was any risk to their health at all.'
– Cllr David Moore, Seascale councillor

After walking the two miles along the shoreline the demonstrators arrived at the nuclear plant to continue their peaceful protest and get their message across.