Donated animal feed for struggling farmers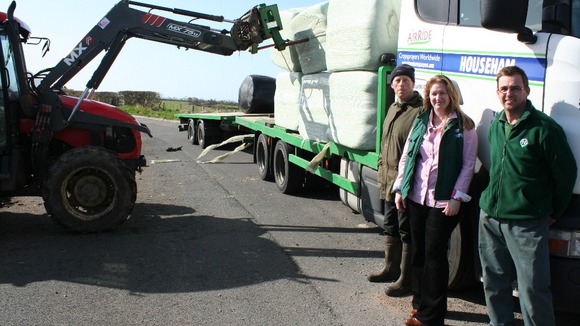 Fifty-five bales of donated fodder have been delivered to struggling hill farmers in south Cumbria.
Many farmers are finding it difficult to pay for animal feed after losing hundreds of livestock in snow blizzards last month.
Andrew Ward from Glebe Farm in Ledenham arranged for a load of haylage to be delivered to the south Cumbria area, free of charge on a Househams Sprayers lorry.
Alan Stubbs was one of the farmers who lost sheep in huge snow drifts, and he says he is very grateful for the help:
"We normally get three cuts of silage but last year we only managed one cut so I've been buying in feed all winter," explained Mr Stubbs.

"I only had enough silage to last me through to Christmas resulting in me having to purchase 150 tonnes of feed a month since November, so any help is very welcome."
– Alan Stubbs, farmer

Esther Pritt, who is the NFU secretary for Broughton, liased with Mr Ward and proportioned the fodder for farmers in the upland areas of Broughton, Millom, Eskdale, Wasdale, Langdale and Ulpha.

Robin Jenkinson farms on Corney Fell and he lost around 300 sheep in the freezing weather.
" We only have 10 days of feed left so this kind donation will come in very useful. We have cows as well as sheep to feed so the situation was looking desperate.

"We will share out these bales and make sure they go to the people who need them most."
– Robin Jenkinson, farmer
"We lost 150 ewes. I've three weeks' worth of feed left and it will be June before we can let the cows back out onto the grass. Acts of kindness like this really lift the spirits."
– Ian Ellwood, farmer

Mr Ward is now encouraging the farming industry to pull together and do something for fellow farmers who have been badly affected.

He is urging farmers who have leftover feed to think about donating it, and is also asking any haulage firms to consider transporting the feed, free of charge.

If you are interested in helping out then you can contact Mr Ward on Twitter at @wheat_daddy or by email on andyward@farming.co.uk