Baby owls have keepers in a bit of a flap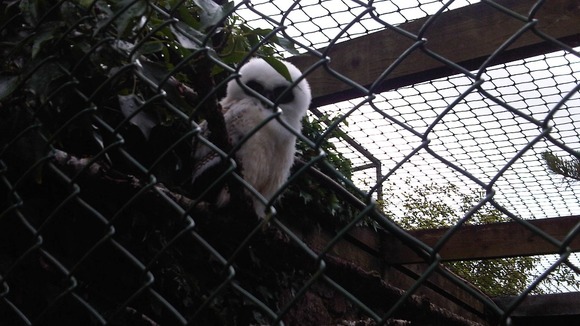 Baby owls at the World Owl Trust at Muncaster Castle in Cumbria have had their keepers in a bit of a flap this year as there were fears the freezing spring had stopped their parents breeding.
Owlets are usually due to hatch in February but the first ones weren't spotted until the end of March.
We've had a very cold spring and if you remember back at the end of March which was just into the Spring period we had these almost arctic weather conditions which some weather forecasters likened to being on top of the Cairngorm plateau and this was down at sea level and that has been disastrous really for many wildlife species including owls.

"We have had a few broods where we have only had a single owlet whereas in other years we'd normally have two or three in a clutch so the clutch size have actually been down.
– Wulf Ingham, Head Keeper

Some of the barn owl owlets are so late they are only starting to hatch now. It is a similar picture in the wild. The conservation monitoring team have delayed their observations as owlets have yet to hatch.

The World Owls Trust believe their work is more important than ever as owl numbers are reducing due to temperamental weather patterns. They say education is key.
"It is about everybody knowing as much as they can. One thing we are doing now is getting more and more schools visiting and spending time with the children and it is essential that we get the message across to the young people.

"We do get out and about to schools and trying to get the message out about what we do it is about conservation, it is about getting the habitat right and we use the owls as a showcase for that."
– Steve Richardson, Chief Executive

An open day is being held at Muncaster on Sunday, July 7th for members of the public to find out more about the owlets.