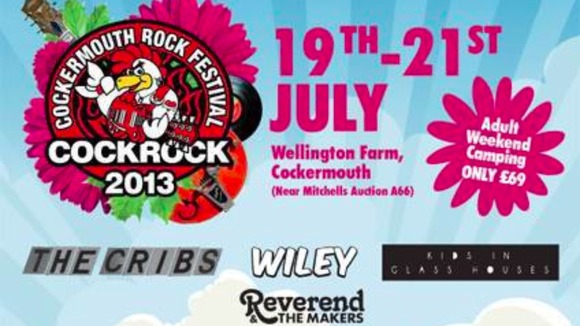 Organisers of the CockRock music have taken to Facebook to announce the news that they will not be running the event next year.
The full statement on their Facebook page reads:
Whilst we weren't quite ready to make an announcement on CockRock 2014 it looks like we now don't really have a choice.

We've know we've been very quiet lately, the reason for this is we've been taking some time to consider the future of our wonderful festival.

As we all know CockRock started back in 2005 and was initially a one stage, one off, one day fundraiser. Over the past 9 years we've worked tirelessly to build and expand CockRock taking many opportunities that were presented to us to transform CockRock into what it is today - a non profit, 8 stage, 3 day, 5000 capacity, camping music festival.

Throughout this expansion we've encountered many challenges and difficulties and have had to conform to many expectations some of which haven't always been welcome.

Particularly over the last few years as with many festivals we have suffered financially, this coupled with a number of unwelcome restrictions that have been placed on the festival has meant that we have struggled in many ways.

It's with great sadness and a very heavy heart that we must now announce that CockRock will not run in 2014. At this moment in time we cannot say if we will return again in the future, we hope this is not the end but at the moment the future for CockRock is very uncertain. We're truly gutted to say we wont be running next year and that our lovely town that we are very proud to live in no longer has a large capacity music festival.

We're sure that this will prompt many suggestions on what we should have done, what we shouldn't have done and what we should do and we've certainly been subject to many opinions over the years but we would like you all to know that we worked hard to try many different options, we even brought in CN Events in 2013 to develop and manage the festival to help it become sustainable and thus we feel we have exhausted all options at present.

This has been an incredibly difficult decision to make , CockRock has been such a big part of our lives that it will be incredibly missed but in its current form with recent increased regulations and restrictions it has become too difficult to operate and to deliver the kind of event that is not only as safe as possible but that also meets our fans expectations.

We would like to ask you all the focus on the positives, the wonderful memories and the things that CockRock has achieved over the years. We're all incredibly proud of the festival , we started with no money what so ever and from here we managed to generate enough funds to run 9 festivals, provide countless opportunities for young, local and upcoming artists as well as donating over £46,000 to the Cockermouth Mountain Rescue, The Pride of Cumbria Air Ambulance, Cancer Research and The Fire Fighters charity.

We hope that you - our loyal fans have many memories that you'll treasure for years to come. We've had a blast organising CockRock and whilst at many times it's been incredibly hard going and at times frustrating we're proud of what the festival has achieved and would like to sincerely thank you all for being part it, without our fans we would have been nothing.

We'd also like to take this opportunity to thank all the people that have worked with over the years from the authorities, Allerdale B.C, all our suppliers, CN Events the acts, the traders, our friends, our families and every single one of our volunteers.

So thank you everyone for supporting us along the way, have a fab 2014 festival season maybe we'll see you all around!