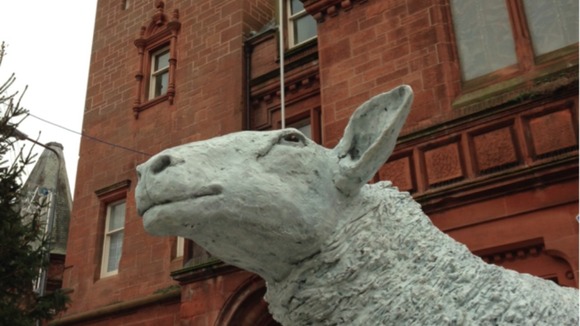 Controversial sheep sculptures were installed in Lockerbie town centre today.
The sculptures are made of brass and are life-sized and have been installed on the High Street around the town hall.
It is part of a £1.2 million regeneration of the centre of Lockerbie.
Dumfries and Galloway Council hope that it will be a way of improving the image of the town and give it an identity that does not focus on the tragedy of the Lockerbie bombing, which has its 25th anniversary on December 21st.
However, many people think that the idea has not been properly thought through and opinions in the town are divided on whether the sculptures will bring in more shoppers and visitors.
Shabaz Ali, who owns The Annandale Herald Newsagents, has collected more than 800 signatures against the plans.
He claims that the disruption over the summer while the regeneration work's taken place has cost him £24,000.
"The lack of consultation from the council is the main problem here. A lot of people in Lockerbie wanted other things done and the council have basically forced this regeneration upon Lockerbie.

"I am definitely asking for compensation. As big a regeneration project as this, the council should have put money aside.

"They knew they were going to disrupt the High Street so they should have had something in place to compensate the shop keepers."
– Shabaz Ali, The Annandale Herald Newsagents
"Works are starting to come to completion now and people are starting to see the designs on paper coming together.

"The sheep and the street furniture going in at the moment were always going to be a talking point but one of the things we agreed right at the start of the master planning process was that Lockerbie needed and wanted to move on from the air disaster.

"It needed a different focal point. It needed a different talking point and I think that's exactly what we've got."
– Jason Syers, Service Manager for Strategic Projects, Dumfries and Galloway Council

The sheep were designed by Fife sculptor David Annand.

They celebrate the fact that Lockerbie has been home to Scotland's largest lamb market since the 18th century.

Work to improve the area, called the Lockerbie Master Plan, started in July this year and is being funded by Dumfries and Galloway Council.

It includes the creation of a town square around the war memorial and town hall.

New wider paving around the landmarks, resurfaced pavements, seating areas, pedestrian crossings and tree planting are set to improve the street scene.