Scottish dairy farming's new leader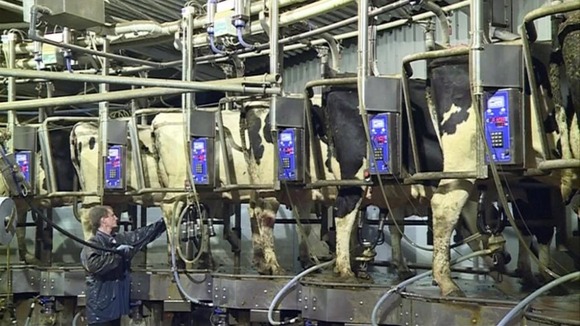 The man appointed to oversee the transformation of Scotland's dairy industry says he's looking forward to the challenge.
Entrepreneur Paul Grant will head a group specifically set up to help the industry expand into international markets.
Mr Grant already knows how to run an successful business, he took Mackay's Jam and Marmalade from a regional company to an international one, and now exports to over 50 different countries.
He now faces a new challenge, taking Scotland's dairy industry to the global market.
Mr Grant will head up a task force called the Scottish Dairy Growth Board ... and in time, hopes to increase exports of high quality products to places like China.
"There is a plan to produce 50% more milk by 2025, and what we need to do is convert that liquid milk into a value added product, and that's been done very well in the UK, but now we need to be following the whisky industry, the salmon industry, walkers shortbread, even Mackays preserves and marmalades and taking some dairy products seriously across the world from Scotland."
– Paul Grant, Scottish Dairy Growth Board

Despite the fact that Paul has no previous knowledge of the dairy industry he still believes his vast knowledge of the food business in Scotland gives him an insight into how to expand the industry.

In fact it's his lack of knowledge that has endeared him to farmers milking on a daily basis.
"Because he knows nothing, it means he's not coming in with any baggage, so I think he's going to speak to us clearly, in an innovative way, of things that we've maybe never looked at before, and I think that's brining us fresh air into the whole strategy, I think it's going to be excellent."
– Gary Mitchell, Dairy Farmer

Establishing a specific board to focus on export markets was one of 19 recommendations set out by a report from Scotland Food and Drink at the end of last year.

It hopes to help transform dairy farming in Scotland. Over the past few years the industry has been struggling.

Recent figures released by the Scottish Dairy Cattle Association show that dairy farm numbers across Scotland have dropped to their lowest in 110 years, less than a thousand now exist across Scotland, that's a reduction of 18 in the last year, there is some good news though, five have started in Scotland, three in Wigtownshire alone.

It may take several months before Paul is able to get to grips with the industry ... but it's hoped in a couple of years time, the world will see just how much Scotland's dairy industry as to offer.