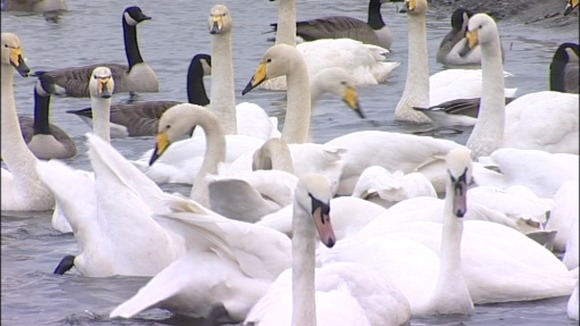 The flooding at the beginning of 2014 devastated homes and businesses but for a Dumfries and Galloway conservation charity, flooding from a high tide has actually been beneficial.
The Wildfowl and Wetlands Trust saw more birds descend on the centre at Caelaverock than in almost 20 years.
The wildfowl and wetlands trust centre near Dumfries sees thousands of birds every day but in the recent floods, it saw almost 9,000 on one day alone.
The fields surrounding the observatory were left flooded when the sea wall was damaged. No buildings were damaged and it's proved a great habitat for sea birds and waders, that wouldn't usually be seen so far from the water.
"It was quite incredible really, I knew the tide was coming, it had been all over the news and I had seem some of what had happened down on the south coast of England, but I wasn't really prepared for how bad it was going to be, and just the speed at which the tide came in and how far it came in compared to usual was amazing really.

"It completely cut off one of our hides by a good two or three feet of water, I ended up rescuing our sheep and also a few visitors from the hide so it was just unbelievable.

"It may well flood again and the flooding is good for the wildlife so if we can leave it how it is and maybe alter a few things to make it even better for the wildlife then that's what we'll look to do."
– Joe Bilous, Wildfowl and Wetlands Trust

The tide is expected to reach over 10 meters at the end of January and the start of February and if it does the fields could flood again so it may not be that long before the centre sees even more birds descend on the area for the second time in a month.