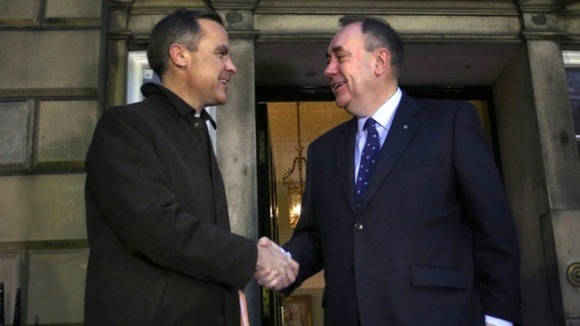 The Governor of the Bank of England has set out what he sees as the potential costs - and benefits - of Scotland using Sterling if Scots back independence.
The SNP government has said it wants to use Sterling of Scots vote 'Yes' to independence in September.
In a speech in Edinburgh this afternoon Mr Carney was clear that the decision on independence was a matter for Scots.
The arrangements on currency in the event of a Yes vote would be for the Scottish Government and the rest of the UK to work out.
"Any arrangement to retain sterling in an independent Scotland would need to be negotiated between the Westminster and Scottish Parliaments. The Bank of England would implement whatever monetary arrangements were put in place."
– Mark Carney, The Governor of the Bank of England

He said he was not passing "judgement on the relative merits of the different currency options for an independent Scotland", but instead "drawing attention to the key issues".

He added: "This is a technocratic assessment of what makes an effective currency union between independent nations."

Mr Carney said that there were benefits in a currency union including eliminating transaction costs, and promoting investment by reducing uncertainty over currency movements.

But he also said that a flexible exchange rate where a country had its own currency can act "as a valuable shock absorber when domestic wages and prices are sticky. For example, suppose demand for a country's exports falls".

He also said a currency union required "a common fiscal backdrop for its central bank". The central bank had to be able to be the "lender of last resort" to financial institutions.

He added: "The euro area has shown the dangers of not having such arrangements, as well as the difficulties of the necessary pooling of sovereignty to build them.

"An independent Scotland would need to consider carefully how to develop arrangements with the continuing United Kingdom that are both consistent with its sovereignty and sufficient to maintain financial stability."
"The second justification for shared fiscal arrangements is that problems in one country are very likely to spill over to others.

"For example, the threat of default by one country may trigger a generalised crisis, particularly if the liabilities of the crisis country are held by the banking system of the broader currency area.

"It will be in the interests of other countries in the union to bail out a country in crisis, and that reduces the incentives for countries to run their finances prudently in the first place.

"At a minimum, this 'moral hazard' problem suggests the need for tight fiscal rules, to enforce prudent behaviour for all in the union, although credible sanctions for breaking those rules are hard to develop.

"There is an obvious tension between using robust fiscal rules to solve this problem, and allowing national fiscal policy to act as a shock absorber. This reinforces the need for fiscal risk sharing between nations. "
– Mark Carney

First Minister Alex Salmond met Mr Carney earlier today.
"I was delighted to welcome the new Bank of England Governor to Edinburgh on his first official visit to Scotland since his appointment. We greatly value our strong working relationship with the Bank and its commitment to operational independence and impartiality in political debate.

"The discussion was private but I welcome that the Governor has confirmed his willingness to continue technical discussions, inaugurated by his predecessor Lord King, between the Scottish Government and the Bank of England in advance of the referendum."
– First Minister, Alex Salmond