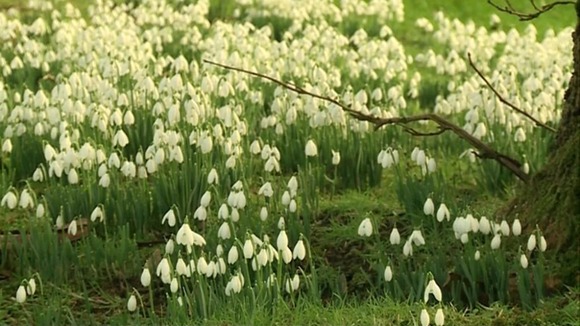 They appear on roadsides and hillsides across the country. Snowdrops are one of the first flowers to bloom in the year, and the sight of their white blossom usually celebrates the start of spring.
Logan Botanic Gardens in Galloway is just one of five venues in the region that are taking part in Scotland's Snowdrop Festival.
Started in 2007 it's grown nationally and offers a unique event to see the delicate white flower in gardens which struggle to pull tourists in during the winter months.
"It's really important that we promote what we can at this time of year, it is a difficult time of year for the tourism businesses traditionally, the traditional tourism season is later so events that are taking places through the Homecoming Scotland calendar are playing a really important part in bringing visitors to the region at this time."
– Sharon Makepeace, VisitScotland

Although there aren't many other flowers blooming at this time of year the gardens here at Logan still have plenty on offer.

Richard Baines is the curator here, his job is to see all the plants are protected during the winter months and ensure everything planted at the right time.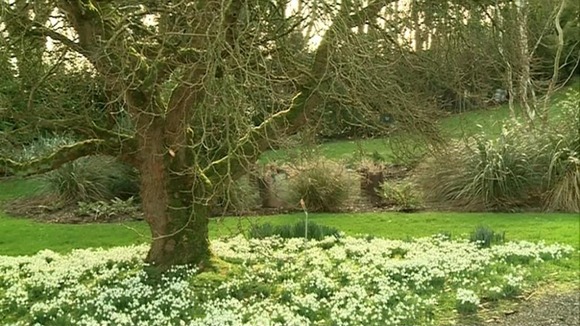 "Snowdrops herald the start of spring, carpets of white wherever you can see and at Logan here we've got lots and lots of naturalised snowdrops, double ones, single ones. A lot of the other gardens that are participating in this snowdrops festival have ones that are slightly different, but I think there's approximately 300 different varieties and cultivars so it's an incredible time."
– Richard Baines, curator, Logan Botanic Gardens

But why should people go to Logan Botanic Gardens?
"Well Logan has a really unique climate, it's very very mild during the winter and especially at the moment, we had very little frost so things like camellia, ilis, and rhododendrons, miniature daffodils are all just starting to show their heads, just popping through so why not, if you get a nice mild, sunny day, get some fresh air and really come out and enjoy the gardens."

"Lots of things happening, for 2014 we've got a brand new elegant Victorian conservatory which we'll have on display to the public, which is fantastic, and lots of exotic plants to see, just starting to come into flower, so whenever you come to Logan, you know there's always lots going on, and lots to see for visitors."
– Richard Baines, curator, Logan Botanic Gardens

The festival is running until the 16th of March, and everyone is being urged to get out and enjoy the start of spring.