Thousand of toys given to Philippines aid appeal
Piled high and filled to the brim. This old aircraft hanger in Silloth is currently home to ten thousand teddy bears, all ready and waiting to be sent to the Philippines.
In November last year the country was hit by a devastating typhoon. With over six thousand people dead and almost two thousand still missing, nations from around the world have been quick to respond.
Britain alone has given almost seventy five million pounds in aid but members of the Silloth-on-Solway Rotary Club decided they wanted to do something different.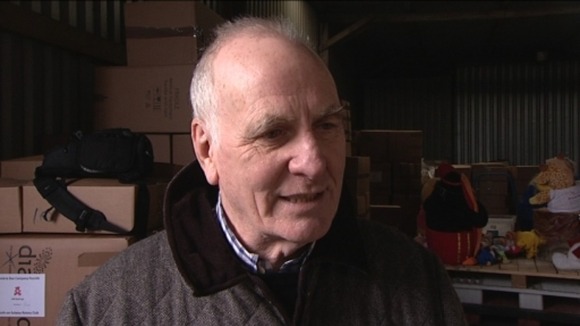 "My son rang me, who lives in the Philippines and works in the Philippines for a business I have there, and he said he had been asked to work free of charge for a charity called 1,000 bear hugs. That, fortunately, was the day of a Rotary meeting so I was telling the guys that evening and they said, 'that's a good idea, lets collect some teddy bears'. And we did."
– Colin Smithson, Silloth-on-Solway Rotary Club

What began as a small collection of toys soon turned into a countywide appeal.

It's hoped that they can find somebody to give them a container so they can pack them off in the next few weeks.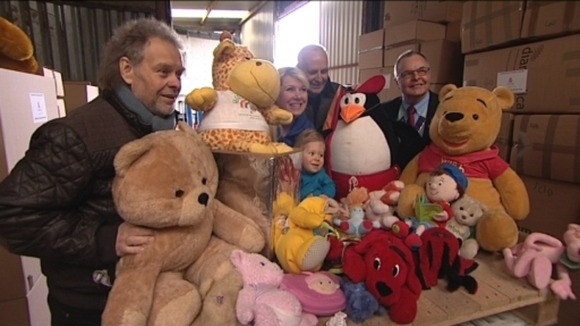 The charity knows that families need practical help, but they say the toys will add something extra for the children.
"I mean, the international agencies do very well with providing the food and shelter and the water but the kids get nothing really. So this concentrates on the children, to make sure they're happy, they've got something to cuddle and we all remember how nice it is to have a little teddy bear to cuddle, and that's why we thought it was a good idea."
– Colin Smithson, Silloth-on-Solway Rotary Club

And that sentiment is one another charity agreed with.

Hugs for Noah is a charity set up for two-year-old Noah who has Spina Bifida and is paralysed from the chest down. He came to the airfield today to make his contribution to the Philippines appeal.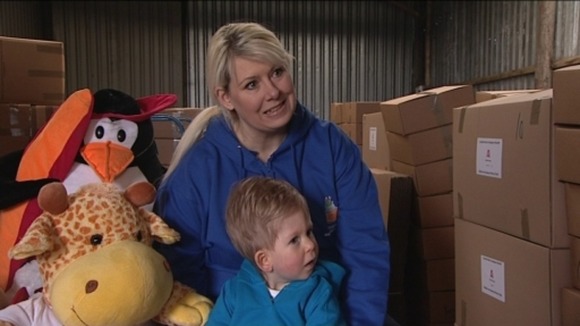 "What we wanted to do was donate one of the Hugs for Noah bears. I think it's important for people to give as much as they can these days and I just find it really sad that, you know, children are without basic essentials and I think sending this over, all these toys and teddies, will make a huge difference."
– Shelly Wool, Noah's mum

With backing from across the county it seems Cumbrians think even the smallest gesture of a teddy bear can make all the difference.