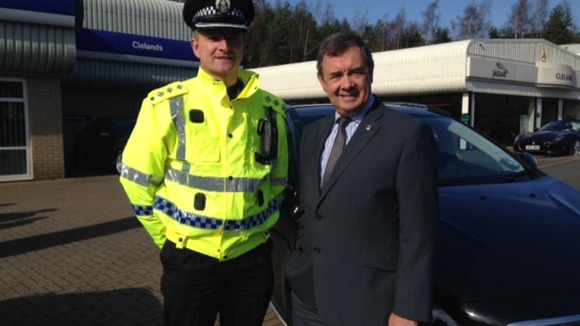 A former British Touring Car champion is backing a scheme to get young people to improve their driving skills.
The skills for life programme is aimed at reducing the numbers of fatalities and casualties on roads in the Scottish Borders.
Up to 400 young people will now be able to take their Advanced Driving Test free of charge, thanks to funding from Scottish Borders Council.
Those behind the scheme - including former racing driver John Cleland - hope it will set a benchmark for the rest of the UK.
"At 17 I thought I had all the answers, I knew what I was doing but like everyone at that age I had the odd accident.

"If someone had taken me aside at that stage and said 'look, listen, here is how to be a better driver, here is how to avoid these accidents', I would have definitely taken it up."
– John Cleland, British Touring Car Champion

On Scottish Borders roads between 2003 and 2012 there were 106 deaths.

Of those, 26 were young drivers. 25% of deaths on Borders roads are young drivers, 5% more than the Scottish average.

The annual cost of accidents in the Scottish Borders is 35.7 million pounds.
"They tell you it is about £1.5m per road accident, we have about 12 of these every single year.

"When you take into consideration we are investing £48,000 in this, using that [money] they will hopefully get about 400 young drivers throughout Institute of Advanced Motorists and pass.

"Longer term we would like to see these individuals pass on their skills to their mates and encourage more to go through this process."
– Chief Inspector Kenny Simpson, Police Scotland

Jenny Longden went out with one of the young drivers taking advantage of the scheme.