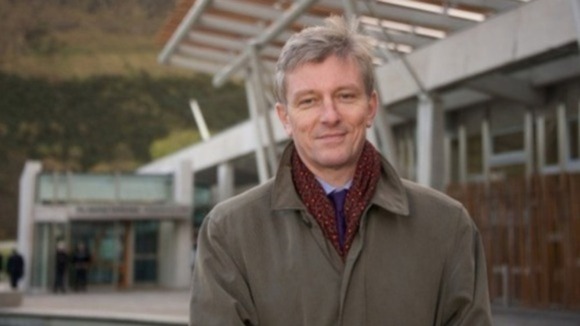 'You've got to accentuate the positive,

Eliminate the negative

And latch on to the affirmative

Don't mess with Mister In-Between'
– Accentuate the Positive - Johnny Mercer & The Pied Pipers

You'll have heard the song many times. My favourite is a version by Jools Holland and Rumer.

As far as I know Jools and Rumer are not appearing at the Scottish Liberal Democrat conference in Aberdeen this weekend.

But the song – written by Harold Arlen and Johnny Mercer in case you wondered – could be the Lib Dems theme tune.

Scottish party leader Willie Rennie is concerned at the tone of the debate over independence.

So Mr Rennie has told his party to 'ack-cen-tu-ate' the positive over the next three days.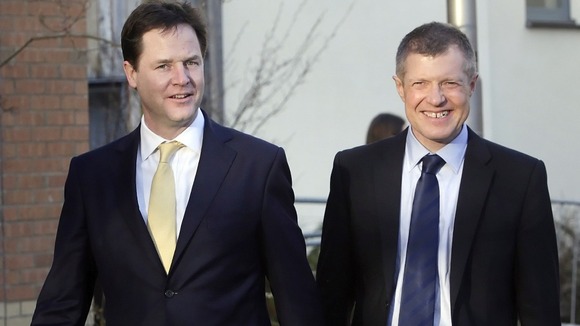 His idea is called the "sunshine strategy" among Lib Dems gathering in Aberdeen. They want to spread a little constitutional sunshine on Scotland.
In an extract of his speech later today, released over night, the party's UK leader and Deputy Prime Minister, Nick Clegg, seems to have got the 'sunshine' message.
"Those of us who believe our nations should stay together now have a duty to show how this shared history can be a strong foundation for an exciting future.

"Forget hearts and minds – this referendum is about capturing imaginations."
– Excerpt of Nick Clegg's speech

His opponents in the Scottish National Party might see the next few sentences as containing just a bit of negativity as he emphasises there are downsides – in his view – to independence.

Mr Clegg will continue:
"Just as it is right that we must explain the risks and consequences of Scotland voting to leave the Union, we must also set out the opportunities of voting to stay.

The prospect of remaining in the UK must be just as thrilling as the drama of leaving it.

Rejecting independence will not be choosing the status quo. It must, I believe, be a giant leap towards our long held liberal vision: home rule."
– Excerpt of Nick Clegg's speech

And that is the nub of the Lib Dem case. The party has a long tradition, going back to the debates about the Irish question before the First World War, of supporting home rule.

In modern terms this means giving substantial additional powers to Scotland, Wales, and Northern Ireland.

Crucially, the Lib Dems also believe in devolving power out from London to England though in the past there has been little appetite for a formal federal structure of the UK.

Voters in the north-east of England rejected Labour's idea of having their own regional assembly not long after the 1997 election.

There has not been much more progress on this idea since then, though there is a lot of talk of giving more powers to 'city regions'.

In his speech Mr Clegg will express the view that there is an "ever hardening consensus" between the Lib Dems, Labour and the Conservatives on greater devolution to Scotland.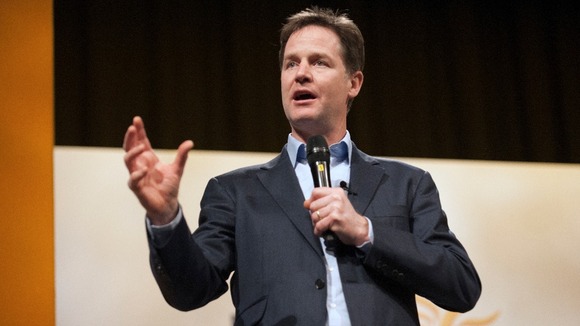 While it is true that all three parties are promising more powers – though we will only see the Tory plans in May – they do not agree on the detail.
Senior figures I have spoken to in Labour and the Conservative parties say they may – only may – be able to agree on some broad principles ahead of the referendum in September.
A complete three-party package of agreed measures for more devolution is, however, unlikely as things stand.
For the SNP, they are taking great delight this week that two former senior Lib Dems have this week said they'll be voting Yes.
South of Scotland SNP MSP Chic Brodie says former Lib Dem Chief Executive Andy Myles and senior activist Denis Robertson Sullivan realise "only independence gives us the opportunity to build the fairer Scotland".
"As Lib Dem delegates gather in Aberdeen, many will have already decided that they will vote Yes in September.

'This weekend's conference is the perfect opportunity for those who have made up their minds to share their views with fellow delegates.

"For delegates who want to see further powers and a fairer Scotland, many of them will be coming to the realisation that a Yes vote is the only way to make this a reality.

"Making their voice heard among their colleagues will help others see that Scotland can, should and must become independent."
– Mr Chic Brodie, former Liberal Democrat

Given that independence stirs such strong feelings on both sides, it remains to be seen how long this outbreak of positivity lasts.