An important part of the farming year is preparing the fields for growing crops.
Usually this process has been finished by now but in many areas the wet weather has meant ploughing is just getting started.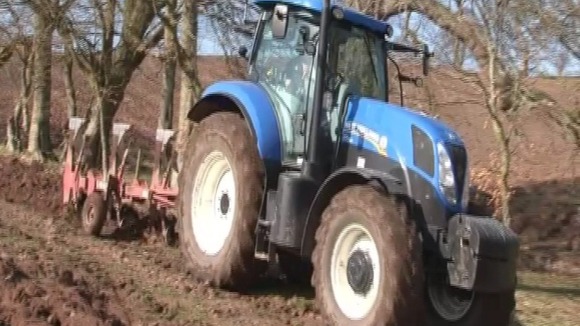 The process of ploughing makes a long narrow trench in the ground - called a furrow - used to plant crops in.
The soil - or tilth - needs to be clear and free from grass and other vegetation, which farmers refer to as trash.
"The most important thing about ploughing is to make sure that all the trash is buried. We have to plough the ground to work up the soil and bury all the trash, so that we can get a nice even tilth. Unfortunately this year it has been so wet that we haven't been able to do the ploughing. We haven't been able to get in the fields now since before christmas, nothing has happened in the fields, so basically it is catch up time now.
– Stephen Withers, Farmer

Farmers grow crops to subsidise their annual income, and to feed their livestock.

Stephen Withers produces a variety of cereals which are all grown for different purposes.

Once harvested, the oats are taken to the mills to be weighed and checked. The process to making porridge oats is a complex one.

Oat crops are checked for their water content and weight, and are then treated to kill off bugs.

If they are good enough to be used, they go through a complicated process of kilning, which stabilises the crop so it can be shelled and flaked.
"We are looking for a good plump well filled oat, sweet smelling of good colour. Well they have got to do, we deal with the same people year in, year out, we have good relationship with them and they can grow the quality that we are after."
– Douglas Veitch, Managing Director of John Hogarth Ltd

A quality that farmers are finally able to produce despite a wet start to the year.