A Facebook group set up by people in Windermere to help find the missing Middlesbrough man Matthew Jordan now has around 4,000 members.
Well-wishers have organised searches every night this week and around 500 volunteers have turned up to help.
Dan Green set up the Facebook page:
"We were out at the weekend searching - obviously when the public were allowed to properly search - and we came Sunday and as locals we were paired up with people from his home town. And then when we got back on Sunday, obviously the police resources were getting tougher and tougher with the area we had to cover so I sort of went home that night thinking the locals need to stay involved really because his family stayed and his parents stayed and then his friends were still going to travel up at weekends. So we decided to set up the Facebook group and now it's sort of 3,500 members strong and getting better really."
– Dan Green

Matthew disappeared after leaving the Stag's Head pub in Bowness-on-Windermere around 00:44am on the morning of Thursday 27th March.

He'd been visiting the area with three friends. His parents have been in the area searching and handing out leaflets ever since.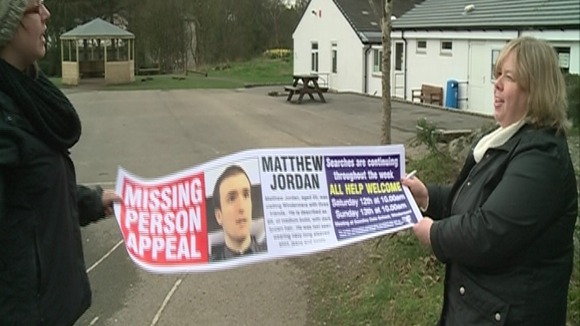 "It's lifting your heart again. We are hoping that we will find him - we will find him - and you can't thank these people enough, and people are coming forward."
– Robert Jordan, Matthew's Dad

Clare Jordan, Matthew's mum, has said she is amazed by the amount of people who have been turning out to look for her son:

Police searches were organised at the weekend and some of the locals decided to carry it on, getting hold of the police map.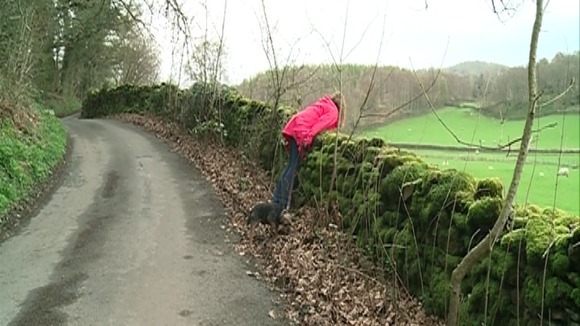 "It could be your brother, your boyfriend, anyone, so we just want to help and especially after meeting the family. You have to do something just to show then that something's happening. We've been working with the group since last Sunday, we met the family at Goodly Dale and what not and we've been coming back on Sunday and Monday."
– Shan Porter, Volunteer

Every night at 6pm, searches are co-ordinated from Goodly Dale School in Windermere.

On Monday, they covered the same ground as the police search, then widened the area on Tuesday and Wednesday nights.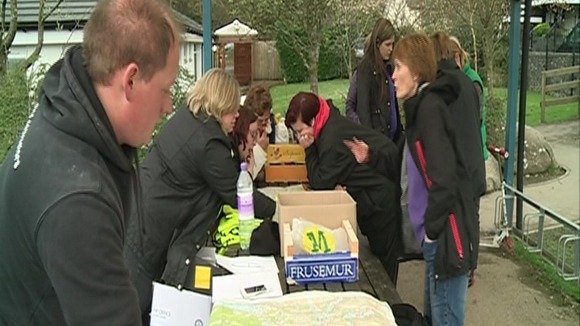 "I have two young boys at home and if any of my children went missing I would just want anyone from anywhere to try to help as much as they could so it really kind of affected us. We've come back again tonight - wherever they'll send us we'll go."
– Charlie Giggle, Volunteer

Anyone can join the search and dogs are welcome. Local knowledge, a torch and an OS map helps. A group is now meeting in Kendal as well, following any possible sightings.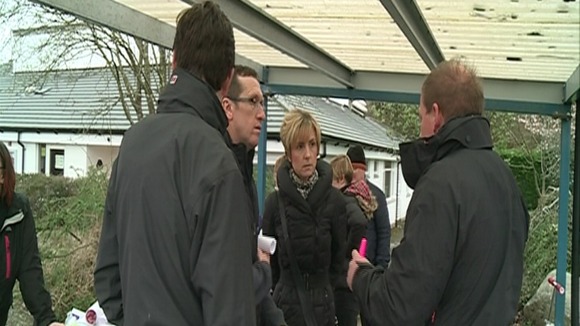 "We felt concern when we saw the police searching a few days ago, enquired what was wrong, and when we realised that Matthew was missing, we actually went out that day and did some searching - obviously not successful or anything - and then when we discovered today that they were going to do another search tonight along the main road so along with everyone else we just volunteered to see if we can at least eliminate possibilities.

We have a list of what to look for or what to expect so we can ignore or stop looking for red herrings as it were and we're just looking into the deeper ditches, into the undergrowth. Any possibility that it could be - he could have fallen into something."
– Eamon McManus, Volunteer

The searches leave every day at 6pm from:
Goodly Dale School, Lake Road, Windermere LA23 2JX
Morrisons, Queen Katherine's Avenue, Kendal. Postcode LA9 6DU.
For more on the searches vist the Facebook page.