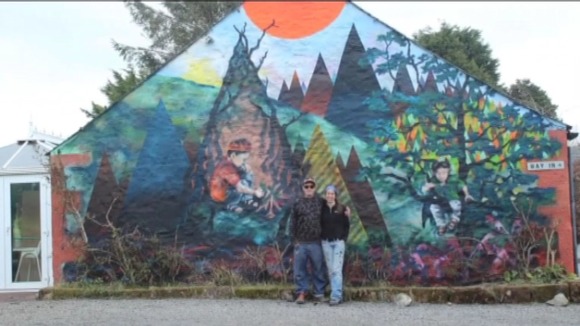 A number of colourful and imaginative murals have been are appearing on walls, and barns across Dumfries and Galloway recently.
It's part of the annual Spring Fling art project and artists from around the country have been getting involved.
In less than four days this white gable end was transformed into a large-scale mural installation.
It's the work of local artist Katharine Wheeler and London based artist FiST ... they collaborated on the project as part of Spring Fling ... an annual open studios event in Dumfries and Galloway.
It's only one of six murals taking shape around the region.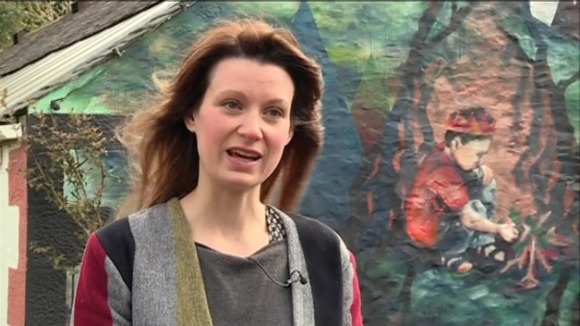 "Last year we did a call out for local people to come forward with their buildings, their walls, whatever they had, and we had a huge response and ended up picking six across the region, so they span from, this is the furthest east at Dalton, right over to Stranraer harbour, where we're painting an electricity sub-station."
– Leah Black, Director of Spring Fling

Katharine and FiST sent many emails back and forth before finalising their mural design ... it features two children playing in the forest and beside a campfire.

Across the other side of the region and a barn near Newton Stewart is also the centre of a mural ... local farmer Iain Service agreed for his barn to be used, and is looking forward to the end result.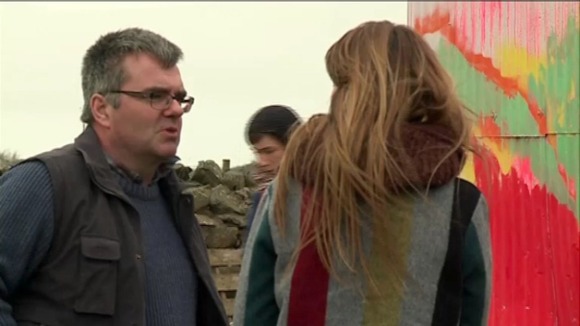 "The idea of the Spring Fling mural was put forward, and I thought my shed is the perfect place to have a mural, you know my shed has earned it's 15 minutes of fame so when Leah suggested that Will Barras would come along, along with Amy Winstanley and give it a bright and happy mural I thought well that would be great, what a way to go!"
– Iain Service, Farmer

The barn will be pulled down after Spring Fling, and artists Amy and Will are determined to give it a good send off, and despite the rain ... enjoy themselves at the same time.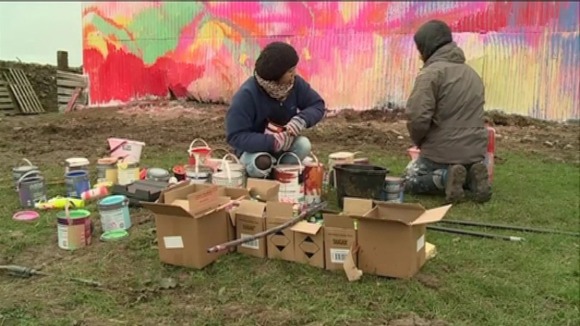 The six murals are spread throughout the region ... and it's hoped that they'll help people explore Dumfries and Galloway and appreciate the creative side of the area.