Organisers of Keswick's Mountain Festival are gearing up for their biggest festival yet. It's 4 days of adventurous speakers, camping, live music and sporting events.
This year there'll be a night swim and even more triathlon events than before. The sport is fast becoming one of the most popular in the Lake District.
FACTFILE ON TRIATHLON:
Triathlon is one of the fastest growing sports in the UK
10 years ago there were 6400 registered members of Tri Clubs, now there's over 14,000
One of the biggest rises is in women's races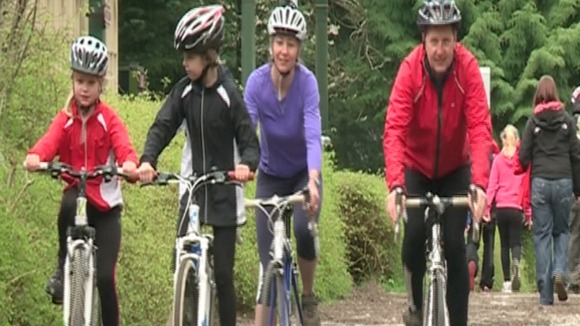 The Coates family are training for this year's Keswick Mountain Festival. Sarah Bennett and both her children will compete in the Triathlon.
Sarah's Adult Triathlon is made up of:
750m swim on Derwent Water
35km bike ride over Honister Pass
10k run near Skiddaw
"I don't have time to train for a triathlon but I do this one every year so I mostly run basically and I do a bit of biking and it's just good fun having lots of different disciplines. It feels like a big adventure to do a triathlon, it's a bit more exciting than just doing a fell race."
– Sarah Bennett, Triathlon competitor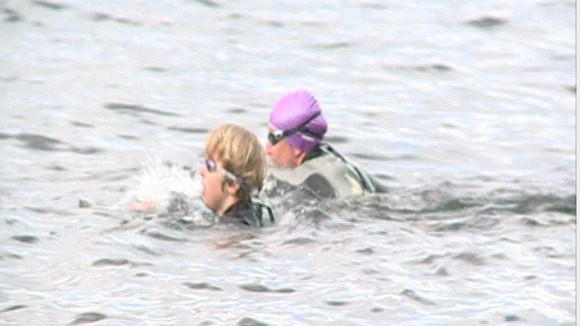 The children's triathlon is entered by most local schools.
Keswick Mountain Festival Schools Triathlon involves:
25m swim in Keswick Leisure centre
1km cycle
400m run in Fitz Park
"My favourite is running because that was probably one of the first ones I did and I think I'm quite good at it."
– Theo
"Swimming is my favourite sport because I think I'm better at it than the others. I like Butterfly because it's hard work but it's very fun."
– Lara Coates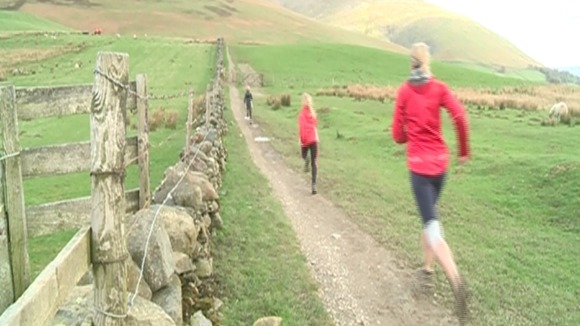 There are running, cycling and swimming events and competitions as well as the triathlon.
Dad Ian Coates is cycling the Back 'O Skiddaw Sportive:
70km cycling
650m ascent
2.5 to 5 hours finish time
"Last year they went round the main peaks over the back over here - Honister and Winlatter and Newlands - this year we're going to the other side, to the northern fells, over to Skiddaw and round the back of Skiddaw, and then back into Keswick, which I think is about 74/75km I think."
– Ian Coates, father and Traithalon competitor

In the South Lakes, Kendal Tri Club has recently formed a Junior Section. Their first big race will be at the Keswick Mountain Festival.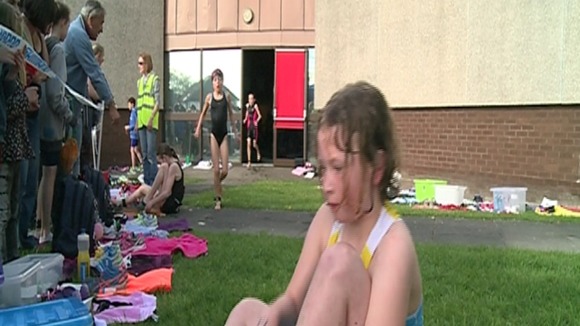 "I think with the Olympics, with the Brownlee Brothers, with them doing so well, and the sport is just growing, growing, growing that children want to be involved with it and if there's a want for children to do it then we've got to make it happen."
– Shirley King, Kendal Tri Club Juniors
"Every meeting that you do it means that you get to see your friends."
– Amelia, Kendal Tri Club Juniors, Age 8
"What's going through my head whilst I'm running is, 'run happy, happy' because it makes me bounce more and the rivalry is - between the team and me - is that I'm not very good at running so I'm determined to beat them."
– Emily, Kendal Tri Club Juniors, Age 10: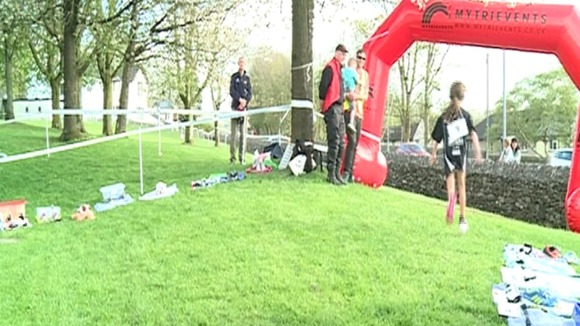 "I'm just concentrating on my stroke and technique and stuff."
– Emma, Kendal Tri Club Juniors, Age 8
"I like swimming and I'm thinking, 'once it's done, it's done'."
– Harriot, Kendal Tri Club Juniors, Age 8
"My friend Madeleine is better at triathlons and I'm better at aquathons."
– Alice, Kendal Tri Club Juniors, Age 10
"I like when they finish because they always get a medal."
– Eleanor, Kendal Tri Club Juniors Support group