Live news stream
Severe weather causes disruption
The M6 has been cleared and re-opened.
All the incidents leading to the road's closure earlier today have now been cleared, including the removal of a lorry which tipped onto its side.
Severe weather causes disruption
The severe winds that destroyed parts of Carlisle's Continental Christmas Market, haven't hampered traders.
This morning the market had been cancelled due to the extreme winds but about 20 of traders have decided to re-open now that the winds have subsided.
Angela Drake from Skipton Jewellery has a stall at the market and told ITV Border what happened this morning:
Advertisement
Severe weather causes disruption
One lane has been closed on the M66 at junction 1/A56 after a lorry overturned.
The incident took place at 1pm today.
Severe weather causes disruption
The A5087, at the junction with road to Leece, GoadBarrow and Dendron is closed due to flooding.
Police are asking motorists to avoid the area and seek alternative routes.
Advice remains for motorists to use caution when driving on the counties road and take extra time if they need to make any journey.
The Environment Agency has more information about all flood alerts in our region.
Severe weather causes disruption
The A66 is now re-opened to all vehicles following the earlier precautionary closure by Durham Constabulary to high-sided vehicles.
Severe weather causes disruption
UPDATE: Anyone who chooses not to travel today or tomorrow and abandons their trip, is entitled to a full refund from point of purchase.
Advertisement
Severe weather causes disruption
A 400 year-old sea wall is the biggest casualty of the storm in west Cumbria.
The Old Quay is an ancient monument built by the Lowther family. Construction started on it in 1634.
The Harbour Commission say it is too early to tell how much damage has been done as they can't get near the wall.
"It is a real shame that the Old Quay has been damaged. It is too risky to send in engineers at the moment to assess the damage but we are aiming to repair it as best we can. It has been here in Whitehaven for hundreds of years and has really stood the test of time. We've been aware for years that should we get a strong north westerly wind like today the wall could be damaged as it was really slammed last in last December's storm. The commission have shut off access to the west pier to members of the public amid safety concerns. They intend to reopen it when the winds die down."
– Celia MacKenzie, Harbour Commissioner
Severe weather causes disruption
The number of homes without power in Cumbria has fallen to 6,000.
Earlier today there was as many as 10,000 homes and businesses were struggling with power cuts thanks to the sever weather.
Your Pictures: Thursday's windy weather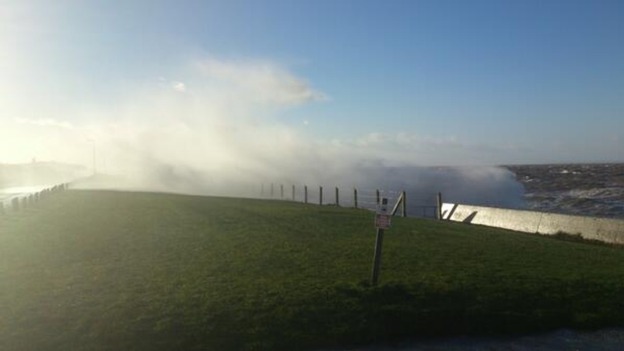 Severe weather causes disruption
UPDATE: No trains will be running between Glasgow/Edinburgh and Carlisle until further notice. Advice is NOT TO TRAVEL. #scotstorm
Load more updates
Back to top