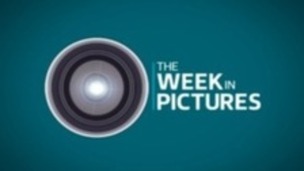 The Week in Pictures March 23rd - 29th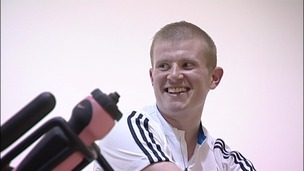 Ten Cumbrian police officers have taken part in an Ironman challenge to raise money in the name of one of their colleagues.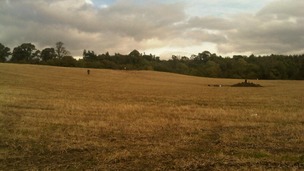 Dig taking place in Ancrum in the Scottish Borders
Live updates
Fragments of life dating back 4,000 years
Work to create a nature reserve near the Tees Estuary has uncovered evidence of a settlement dating back to the Bronze Age. Read more on this story here.
Snake found in Lockerbie garden
Snake found in Lockerbie garden
The search is on for the owner of a Calafornian King snake, which was found on a front lawn in Lockerbie. 'Elvis' is being looked after by a reptile-loving family until his owner is found.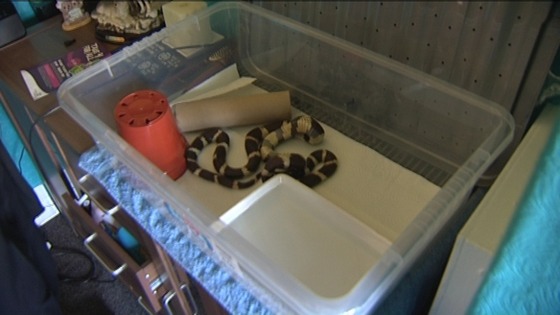 The SSPCA has given the temporary home the approval but Elvis will be moved to a reptile shop to be made more comfortable.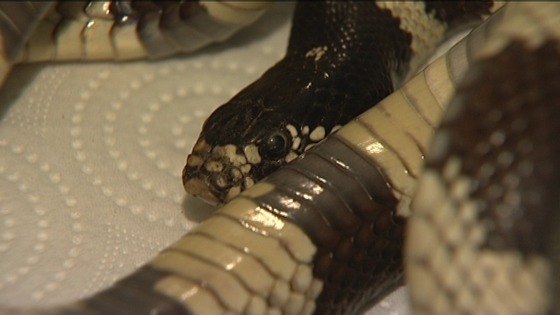 Advertisement
Full Report: School music exchange spans the Atlantic
Two schools from each side of the Atlantic are showcasing their talents this evening at Carlisle Cathedral.
Forty pupils from America's Dover High school in New Hampshire are on musical exchange with Carlisle's Trinity School.
You can watch the full report from Samantha Parker below.
No kidding...the goat who "tweets"
Cumbrian goat kid proves a Twitter hit
A kid goat from Wasdale in Cumbria is attracting a lot of attention after his owner began documenting his progress on Twitter.
Richard and Sam Scrivener were devastated to find that four of their rare breed goat kids had perished in the severe weather two weeks ago, but found one goat weighing just one kilogram, alive in the corner of their farm barn.
They named the baby kid Jorvik, and have been tweeting his antics daily.
He has now become a Twitter sensation, attracting over 700 new followers in one week.
He is staying in the farmhouse at night and is put back in the barn during the day to encourage him to bond with a nanny goat.
Mr Scrivener says Jorvik loves to dance to the television and often sleeps on the couch.
Great Granddad Skydive
Daredevil Great grandfather skydives for charity
Stewart Simpson from Catterlen near Penrith, developed a taste for thrill seeking after beating cancer. His latest adventure saw him skydive 10,000 feet to raise money and awareness of a hearing loss charity. Hannah McNulty reports.
Great Granddad Skydive
78 year old Daredevil does charity jump
78 year old Stewart Simpson from Catterlen near Penrith has skydived 10,000 feet to raise money and awareness for a hearing loss charity. Stewart is no stranger to challenges, having completed a marathon at 67, trekked up Kilimanjaro and walked the Inca Trail in Peru
He is vice-President of Hearing Link, a small charity that provides help and support to people with hearing loss and their families. You can find out more about the charity here
He hopes to raise about £1500 but also wants demonstrate his commitment to the work the charity does.
Advertisement
Uppies and Downies
It was the Northside of Workington celebrating after the first match in the 2013 series. Alan Abraham hailed the ball after more than three hours on Friday 30th April.
Uppies and Downies
Uppies and Downies in action- see highlights from the 2010 series below
Uppies and Downies
No rules, no numbers, no time limit.
It is a bit like Rugby, a bit like football but nothing like sport as most people know it.
To win the game, Downies must hail the ball on the dockside while Uppies have to hail it at Workington Hall in Curwen Park.
The Good Friday game starts at 6.30pm when the ball is thrown off the bridge at the Cloffocks. The second legs starts at the same time on Tuesday with the third held on Saturday, April 6.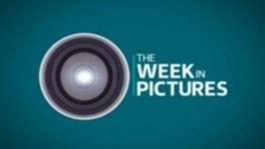 Load more updates