One of the world's most famous locomotives drew huge crowds in Cumbria today, as it arrived after a ten year, £4.2 million, restoration.
Read the full story ›
Hundreds of people are taking place in a swimming regatta in the Lake District.
More than 1,000, from all around the world, have signed up for the Big Chillswim, at Windermere this weekend, and it's now underway: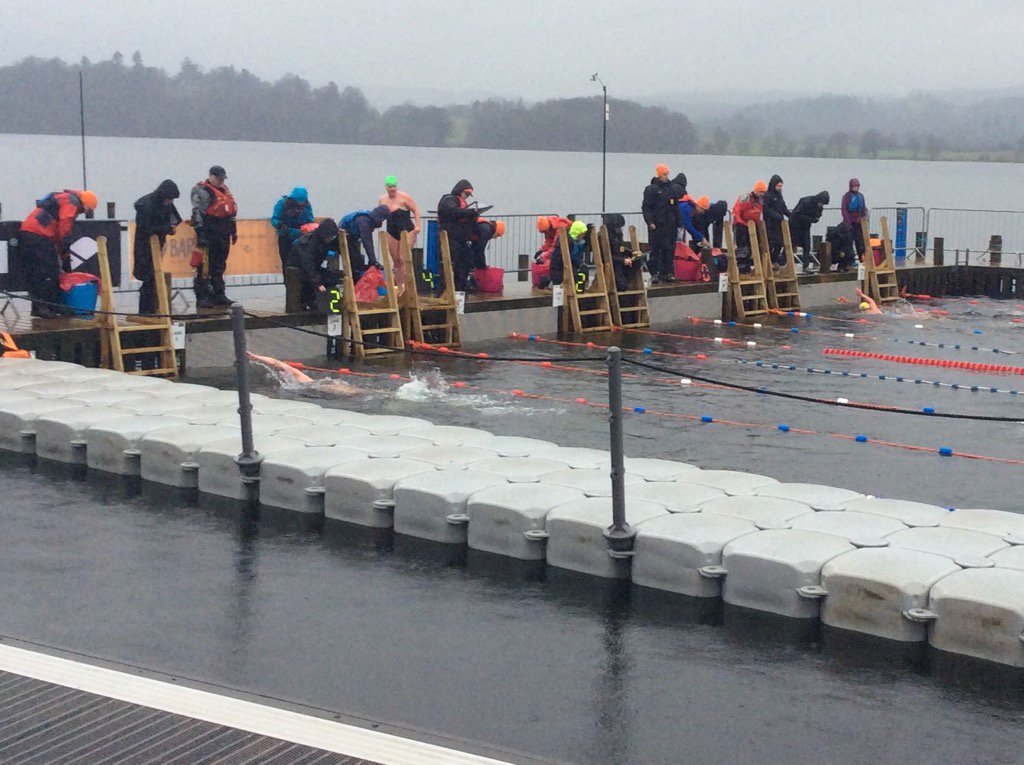 Advertisement
More than 1,000 people are set to brave the cold by swimming in Windermere this weekend.
The Big Chillswim Winter Swimming Gala attracts competitive swimmers from countries including Australia, the USA and Russia, and is billed as a major boost for tourism in the Lake District.
The success of the Chillswim is having a hugely beneficial effect on local tourism at a time of year when visitor numbers are generally relatively lower."
– Ben Berry from English Lakes Hotels Resorts & Venues
The three day regatta began yesterday, with the World Open Water Swimming Association Awards, but the big event, the Winter Swimming World Cup, takes place over the weekend.
It includes the 1km British Winter Swimming Championships.
The swimming races began at 9am this morning, and finish at 5pm this afternoon, before a prize giving ceremony.
They resume at 9am on Sunday morning.
We have seen a dramatic rise in competitors since the event started in 2013, about 250 swimmers back then to over a thousand this year. And it's even more gratifying to see swimmers from all over the UK and Ireland joined by so many international contenders, all of which has helped us secure World Cup status.

With the stunning Langdale Pikes as a backdrop, I can't think of a better or more scenic venue for an exciting weekend of highly competitive swimming. We hope that local people will flock to the shores of Lake Windermere to support the event and cheer the swimmers on throughout the weekend."
– Chillswim director Colin Hill
One hundred artworks have been donated to an auction, to raise money for victims of flooding in Cumbria.
Read the full story ›
Kendal's first White Noise festival takes place this weekend.
It's aimed to encourage 16 to 25-year-olds to take an interest in politics.
The event will feature poetry, music and a question time event with politicians.
Do you know what's been happening in Cumbria and the south of Scotland over the past seven days? Test yourself in our weekly news quiz.
Read the full story ›
Advertisement
Cumbria Fire Service is reminding families of how easy pan fires can start and give their tips on how to handle one.
Read the full story ›
Showjumping's world number one, Scott Brash, is to have his own sculpture erected in his hometown of Peebles.
Read the full story ›
One of the Lake District's top tourist attractions has been awarded nearly £5million from the Heritage Lottery Fund.
The Wordsworth Trust is getting the cash to expand and overhaul the Wordsworth Museum in Grasmere.
A Cumbrian artist is hunting for wannabe singers to video themselves miming James Bay's 'Hold Back The River' to raise funds for floods.
Read the full story ›
Load more updates